I"m writing this on the Long Island Rail Road into NYC, on Wednesday, 14 August 2002, at 3:52 pm. It takes about an hour and a half or so to get from my brother"s house on Long Island to Penn Station, and my battery is at 88%, so I should be OK.
After waking up in our tent in Shawnee on Monday, 12 August 2002, we packed up, showered, and then drove to Gettysburg, PA. But first, this is what we saw when we woke up and looked out of our tent: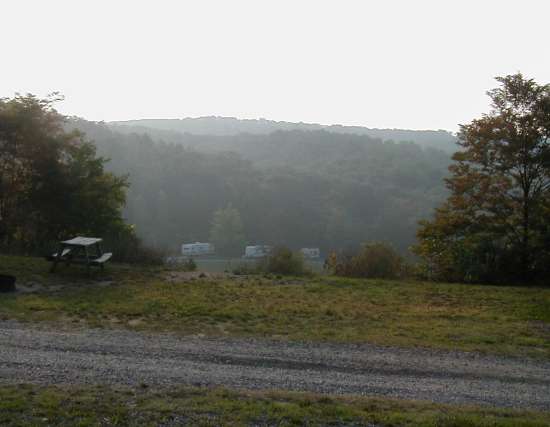 And this is Denise, standing beside the tent before we broke it down:
I must say, Denise and I got pretty dang good at setting that tent up and taking it down.
We actually went about 10 miles down the road and then stopped in a rest area to get breakfast and coffee. I was driving, since I felt a lot better. My cold seemed to have finally left me (although I"m still coughing up nastiness, I feel 100% better). We got a Cinnabon, which we split, and some coffee. As we walked back to our car, a family of four—Mom, Dad, and two little girls—got out of the car parked in front of us. They had a large, happy, friendly-looking Shih-tzu with them.
"Shih-tzu! Shih-tzu!" Denise said.
"Awwwww … he"s cute!" I replied.
We stopped the family and played with the Shih-tzu for a moment. He was about 9 months old, and already much bigger than Libby, our Shih-tzu. He was incredibly outgoing, and very happy to meet new people. We said our goodbyes, got in the car, and took off.
"You did good spoting that Shih-tzu," I said.
"Yup," said Denise, "I"m a Shih-tzu spotter!"
Less than 45 seconds later, Denise was vomiting onto the Pennsylvania Turnpike from the van. From "I"m a Shih-tzu spotter" to "Bwwwaaaaachhhhhhheeeccchhh". It must be a world"s record.
There I was, driving along, with the words "Shih-tzu spotter" still hanging in the air. Then Denise says, "I"m feeling really nauseous!" "You want me to pull over," I quizzed her, "Now?" "Yes!" ordered Denise.
So I did. Quickly. I"ve been in these situations before with Jans and Seamus. Of course, usually a case of cheap beer or a fifth of vodka was involved in those situations, but hey. With Seamus, you were sometimes lucky to get any warning at all. You be driving, and then all of a sudden he"d be getting sick in the back seat.
After a few minutes Denise got done feeding the animals who live along the Turnpike their meal for the night, and we started up again.
I apologize for not having any pictures of Denise throwing up. Next time, devoted readers, I will be more thoughtful of your needs and remember to photograph any events of gastrointestinal distress.
The drive to Gettysburg took several hours. We wound our way through the beautiful mountains of Pennsylvania, up and down and up and down, listening to Gordon Lightfoot"s Greatest Hits, which was perfect accompaniment. Driving was hard enough—I can only imagine what it must have been like for the first settlers in the area. I think I would have taken one look at those mountains and gone back to New York.
Then, we were at Gettysburg. We really didn"t know what to expect. I just knew that there had been a big battle there and that Lincoln had delivered his famous Address as a result. As we pulled into town, we began to see monuments *everywhere*. About every 50 yards or so was another monument, to a regiment of soldiers, or to a general, or to another group of soldiers.
We went into a visitor"s center and bought a map, and then we realized what Gettysburg really is: the entire town was a battlefield, and the entire town is the attraction. To see Gettysburg, you drive along a pre-defined path of roads. Every 50 yards is, yes, a monument or a marker explaining what happened during the three-day long Battle of Gettysburg, 1-3 July 1863. The number of momuments is staggering. I have never seen that many in one place, all about the same thing. For instance, this should give you an idea of just how many there are. This is just one stretch of road. Now imagine this repeated again and again.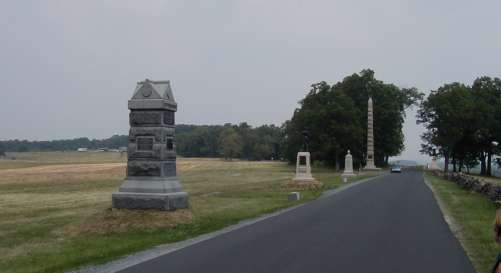 In addition to a statue of each general, there is also a stone structure—sometimes a statue, sometimes a large carving, sometimes a plaque—for each and every regiment, battalion, and any other grouping of soldiers you can imagine. This one commemorates the Pennsylvania Infantry. Now. you"ll notice that I didn"t get the statue, just the little statue of the mascot at the bottom. Hey, we"re dog people, so what do you expect? And notice the dog cookies that people have left. That is just incredibly sweet.
The state historical society has also placed brief explanations of key events in the battle at the exact locations where those events occured over a century ago. This is the spot where Pickett"s Charge took place. The third day of the battle, 12,000 rebels advanced onto the Union men and, in the bloodiest event at Gettysburg, half of them died. Imagine looking straight ahead and seeing that many screaming rebs coming at you. Imagine all the men who died there. The ground was soaked in blood. I"m not religious, but this is a pretty powerful place.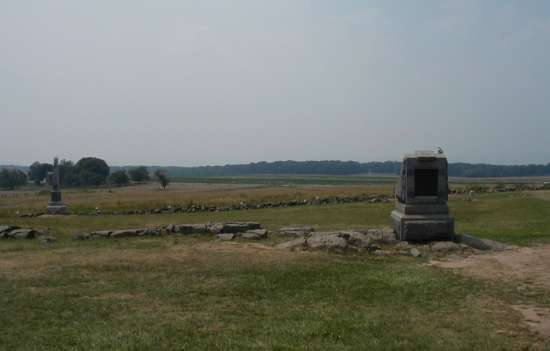 Most impressively, each state who contributed soldiers has built a large memorial to that state and it"s fighting men. The largest we saw? North Caroline and Virginia for the South, and New York for the North. These things were huge.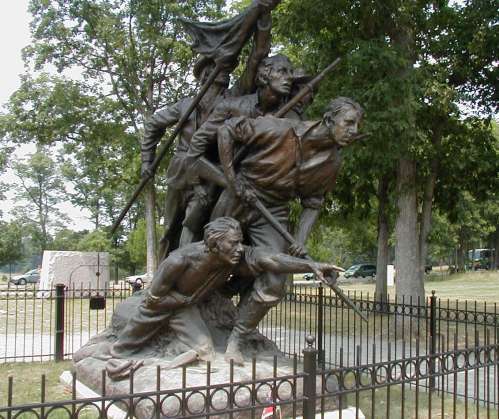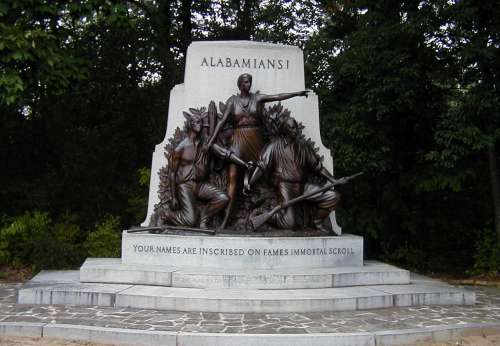 It would take hours and hours to do even a quick run-through of the route mapped out for us. To look at everything would take days. Really, traversing the whole scene by bike or horse would be ideal. Unfortunately, it was hot out when were there. Really hot. So we"d drive, stop the car (leaving it running), get out, look at the interesting momuments, get back in, drive a bit further, and repeat. We saw maybe 1/4 of the total route, but it was still fascinating. The sites where Pickett"s Last Charge and another charge I can"t remember (a Union charge of horsemen into a whithering volley of rebel fire, killing the Union men for no good reason) were especially powerful, because the area has changed so little since the fighting. As you were standing there, broiling in the sun, you could imagine men coming together, sweating and frightened in their hot wool clothes, running, firing, yelling, dying.
After seeing what we did of the battlefields, we left to get food. We ending up eating at a charming little diner called The Avenue. I had a fish sandwich and Denise had an enormous Club sandwich. This was strange: we were in the North, but the wait staff had quite a touch of Southern hospitality, and drawls, about them.
We each wrote a postcard to our parents. Denise"s was factual, telling them about where we"d been and what we"d seen. Mine was more in the style of a letter home from a soldier in the Civil War:
My dearest Mother: We are embarked upon a great enterprise from which we may not return: a traversing of the eastern coast of these great United States. But we have faith that all shall be well. I shall talk to you soon. Your loving son, Scott.
Can"t you just hear Martin Sheen reading that in voice-over?
We left Gettysburg (one disappointment: we didn"t have time to see the spot where Lincoln delivered the Gettysburg Address. As a Lincoln-worshipper, I did regret that, but we will return some day, and then I shall be satisfied.) and headed for Lancaster, PA, to see the Amish country.
Big mistake. We didn"t plan this little jaunt at all. So yes, we did get to Lancaster, but Lancaster inself is an old, run-down industrial town. There were *no* Amish in sight. Not a button-wearer anywhere. It was quite frustrating, and we now realized that we were going to be late getting into New York City to stay with my brother, so we abandoned our mission and headed east. Denise was upset, because she really wanted to adopt an Amish baby, but I told her we would head up to Michigan some time and get an Amish baby there.
The drive into New York took quite a while. We took the Goethals bridge …
It"s now Saturday, 24 August 2002. I never finished that last sentence, since the train arrived at Penn Station. So let me continue from here with the record of our day.
The New York Jets have their offices on the Hofstra University campus. We arrived about 8:30 pm. Many of the players and staff were still there. Gus invited us into the Equipment Room, his domain, but warned Denise that she couldn"t wander around, as a woman would freak everyone out, especially if a player was making his way from the showers to the lockerroom. Denise was very disappointed, as she sorely wished to see a naked football player. I told Gus that my wrist was hurting, and so he led me down the hall to look for a trainer. Warning Denise again not to leave the Equipment Room, we took off. We walked down a long hall, and sure enough, there were a bunch of large men—still dressed—but no trainer. We turned around to go back, and what did we see all the way down the hall? A small blonde head, sticking around the doorway, trying to glimpse whatever she could. Shameless!
I asked Gus to show me the storeroom that had been his home for a year. You see, Gus lived with another guy for a year after he first arrived in New York, in a room in that guy"s house. But then his friend got married, and Gus had to move out. He didn"t have time to find a new place, so he just started living at the Complex in a storage room that also doubled as his office. For about a year, he would roll out a mattress every night and sleep on the floor. It"s a famous story in our family. I had never seen the storeroom, so Gus obliged.
Gus also took us to the official New York Jets Media Room. That"s right … if you see the coach talking on TV after a home game, it"s in this room. Denise and I are both hams, so we immediately got up on the podium and started photographing each other. Here"s Denise, announcing a new policy for the team: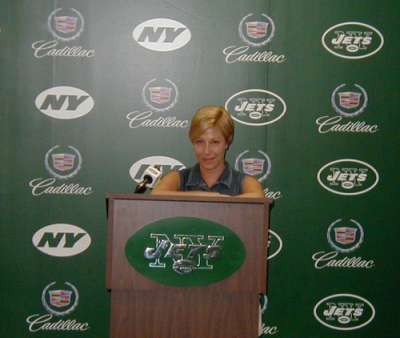 And here Denise and I are, shaking hands for the camera after announcing a big deal that will benefit the New York Jets for years to come:
We went back to the main Equipment Room,and I asked Gus to give me an action shot. So here is my brother, using the sophisticated device that he and his fellow workers call "The Stick" to retrieve a shirt from the clothes rack.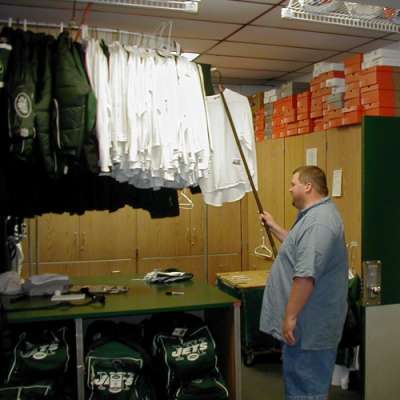 When we first got there and I asked him to give me an action shot, he couldn"t find The Stick. He bacame visibly nervous and worried. Immediately, a search for The Stick was engaged. When he finally found it a few moments later, a huzzah of thanksgiving went up.
Before we left, we insisted that Denise try on a football helmet. This is Denise wearing the helmet of a Jets defensive lineman. You can see how well it fits her. I told her she looked like the the Great Gazoo from the Flintstones.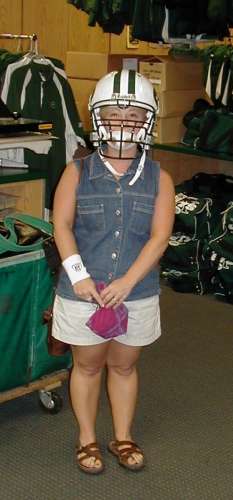 We finally left and drove to Gus" house, about 35 minutes away. We got there pretty late, but he still gave us a tour. he wasn"t kidding … there were comic books *everywhere*. Thousands. And lots of DVDs. And, finally, a fast Internet connection. Yay! I plugged in my laptop, got a fast connection, got my email and checked my RSS aggregator, and was happy. Denise and I said goodnight to my lil" bro and went to bed. What a long, fun, involved, educational, jampacked day.