Gus was gone by the time Denise and I awoke. Unfortunately, we had a bunch of stuff to do before we could get going. Denise had an article for the ACLU newsletter to finish, and I had techie stuff to do. So we sat in Gus' basement and worked. Denise used Gus' machine and I used this laptop. We finally got done, showered, and then walked the two blocks to the Long Island Rail Road (LIRR). Gus had told us that the train would take 45 minutes to get from his home on Long Island to Manhattan. He was way off. It took more like an hour and a half. The train was pleasant, though, so we didn't mind the extra time.
When we arrived at Penn Station, it was instant New York. People were rushing everywhere, as fast as they possibly could, great waves of people, of all shapes, sizes, and colors. It was great to be in New York City again!
We suddenly realized that we didn't have a map. Very stupid of me, as I had a great laminated map of NYC … back in St. Louis. Stupid stupid stupid. So we walked over to a stand and paid a measley $7.50 for a new laminated map of the City and environs. This was a pretty up-to-date map, as it even referenced the loss of the World Trade Center on the subway portion.
Map in hand, we proceeded about four blocks to the Empire State Building. I couldn't remember the last time I'd been to the ESB. I know I was there in 1976, when my Mom and brother and I went to visit the Smith family in New Jersey, and I went to NYC for the first time. I couldn't remember if I'd been back in 1994, though. But I was looking forward to it. It's a pretty awesome building.
When we came in the door, we had to go through a metal detector, and the guards took my pocketknife away from me and gave me a receipt. I was supposed to turn the receipt in to get my knife back. No problem, although I really didn't see what danger I posed with a pocketknife. But hey, I understand that New York is being careful now.
So we rode to the observation deck of the ESB, and it was wonderful, even though it was hot as heck, and the haze limited visibility to about five miles. It's an amazing feeling, being able to look over a grand city like New York from the vantage point of a god. Whoa, heady!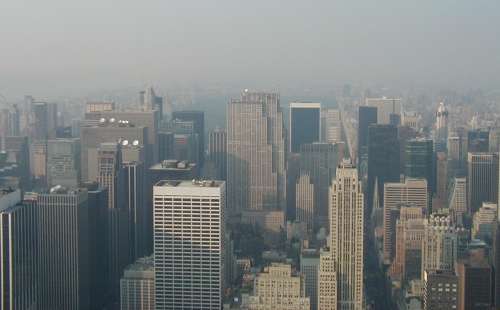 We did call Denise's mom from the observation deck. She was pretty excited. Thank you, modern technology!
We left the ESB and decided to walk to Times Square. We did it, but man, it was HOT. When we got there, it was crazy. Last time I was there, in 1994, Times Square was Times Square: busy, with a mass of people moving everywhere, and gigantic advertisements dominating the area. But it wasn't as wild as it is now. The ads now are larger, more animated, more insistent. It was like being in a video game, completely overwhelming. I must've looked like the biggest rube, walking around with my mouth open and my eyes moving from sign to sign to sign.
I was so overstimulated that I didn't even get a picture!
We finally turned around and walked back to Penn Station. After waiting for an hour for the next train, we took the LIRR back to Gus' stop. Gus picked us up in his truck and took us a diner that he likes. It was OK, just OK, but it was fun as heck talking to Gus. We had a great time. It was especially good of him to stay up with us, since he had to get up at 5:30 am to get the Jets' equipment ready for a game out of town.
After our dinner, we came back to his house and went to bed. It felt good to be in the air conditioning of our room after the heat we had endured that day.