We woke up in Hilde and Barry's apartment (where did you expect us to wake up? Somewhere else? 'Sometime during the night, we were spirited away as we slept to the castle of a great lord …'). After dressing, Hilde and Denise and I, accompanied by their two big dogs, walked to a local coffee shop. It was HOT. By the time we got there, I was sweating and fully uncomfortable. Fortunately, the iced latte was refreshing, and the sandwich I ordered was tasty. Denise said the scone she had was one of the best she'd ever eaten. We sat outside and ate our brunch. I took a picture of the two women and the two dogs (Ferdinand is under the table, while Amelia is behind Hilde).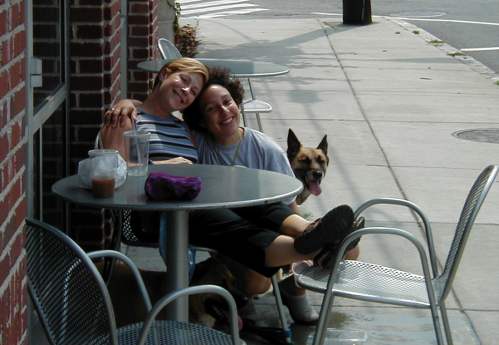 After brunch, we packed up and left for the Cape!
Denise and I finally arrived at the Saks' cottage. Sharilyn, if you're reading this, thank you! Your cottage is fabulous. Four bedrooms, 2 full baths, a big kitchen/dining room, washer & drier, screened-in back porch, breezeway full of beach chairs, towels, and toys, and a family room. We took the big bedroom on the ground floor (there are two floors) with the king-size bed and moved all of our stuff in.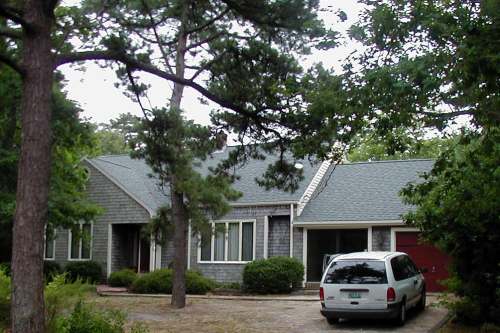 We then made our way to the Dennis Market to get some food. It was like stepping back in time. It was a tiny little grocery store. The aisles were so narrow that you could basically fit one cart and that was it. There were no scanners—the women checking you out had to enter every price by hand onto an ancient computer. I kept expecting to see people smoking in one aisle and cloth diapers in another, along with ads in magazines for the new 1970 Cutlass.
They did have a great butcher section, though … no surprise.
While we standing in the butcher/meat section, a bit of excitement occurred. A man around 60, a pretty big man, was standing next to me. He got his order and stepped back to leave. His leg, however, was tangled in one of those metal box-shaped holders into which you're supposed to place your shopping basket. For some reason, one of those was right by the butcher section. The man didn't realize his leg was in the holder, and when he stepped back he fell. Hard. On his back. He had a dozen eggs in a carton in one hand and the butcher-paper-wrapped meat in the other. The meat went flying and the eggs went everywhere. It happened so fast … I saw the whole thing, and I was right next to him, but there was no way I could stop him. I immediately ran over and extended my hand and helped him up. He wasn't badly injured, but his arm hurt, and he had the wind knocked out of him. The guys behind the counter didn't do a thing! In fact, I had to tell one of them that there were broken eggs all over the floor and that he should clean them up. Unbelievable.
Hilde and Barry arrived that night around 8ish. We made dinner at home: pasta with clam sauce, salad with fresh mozarella, and fresh corn on the cob. Even though the pasta was made with a spaghetti-like noodle, which I detest, it was still a good meal. The company was excellent.
After dinner, we played Spades. I was the so-called expert, since Barry had played it in the past but had only a fuzzy memory of the rules, while Denise and Hilde were novices. To make things fair, we played boys against girls. :)
After a couple of practice sessions, were played for points. It was a fun time. Everyone talked and laughed and had a ball. The final score after a couple of hours? Boys 324, girls 249. Pretty darn good for beginners.
Around 2 am, we finally went to bed. Denise and I had a long talk from 3 to 5 am that was really great. You don't get to find out everything by reading this journal; suffice it to say that we were both glad we had our discussion. And we were glad we had each other.