Yawn ... time to get up in Hardin, Montana. I stand up and immediately make some coffee, and then jump into the shower. And for the 3rd time on our trip, I see that the shower curtain has been threaded in a really artsy, weird manner.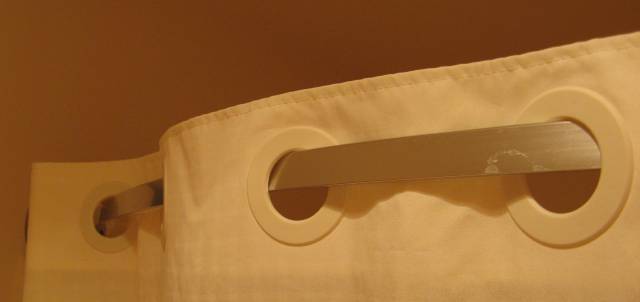 What is it with that? Why are all the motels & hotels doing that? It can't be just for looks. Anyone know?
The other thing I've noticed as we've traveled is that everyplace offers free wireless now. 4 years ago, on my 2003 trip, I had to use dial-up everywhere, and connecting to the Net was a real pain. Two years ago, in 2005, I had wireless at a few places, but by and large it was hard to find. Now it's ubiquitous. That's a great sign!
I had to upload the last major chapter of a book I'm writing; before that, though, I had some friends look over what I'd written. I was using Skype on my laptop in the hotel's lobby to talk to them, when Gus walked up.
'It sounds like an interesting trip,' Jerry said, in my headset.
'Oh, it has been!' I replied. 'Little Big Horn was amazing.'
'Wounded Knee sounded good too. You saw some interesting stuff - andpeople- there.'
'Yep,' I said, 'Wounded Knee and the transsexual.'
Gus heard that. 'That's my favorite children's book,' he said to me.
I finally got off the Net and we hopped in the car, headed for Casper. Why? Well, the Fort Casper Museum sounded interesting, and I had insisted, while we were still planning the trip, that we go to the Ring of Peace. You may remember that Matthew Shepherd, a young gay man, was murdered by homophobes in Laramie, Wyoming in the late 1990s. There's nothing in Laramie to commemorate him, but if you visit the website his parents created, they recommend you see a statue called the Ring of Peace in Casper, that's dedicated first to Matthew, and also to the victims of the Columbine shootings.
Here's what the Ring of Peace looks like in the pictures I've seen on the Web: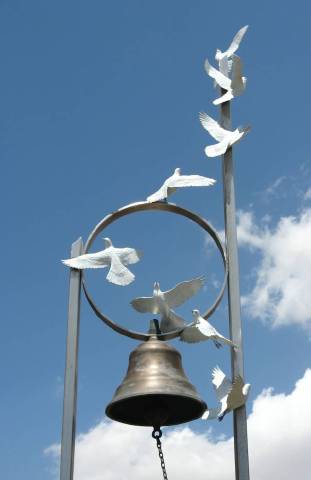 It sounded nice, and last time I was in Wyoming I regretted that I couldn't do anything to remember Matthew. I really wanted to see the magnificent statue that awaited us in Casper. So I made a strong request that we go out of our way to visit Casper so we could see the Ring of Peace, which Gus finally agreed to after much cajoling on my part. He agreed that it might be interesting to see the huge statue I told him we'd see.
On we drove. On our way we stopped in Buffalo, WY to get some gas. The name of the place was perhaps the pinnacle of all the stupid business names I've seen on this trip.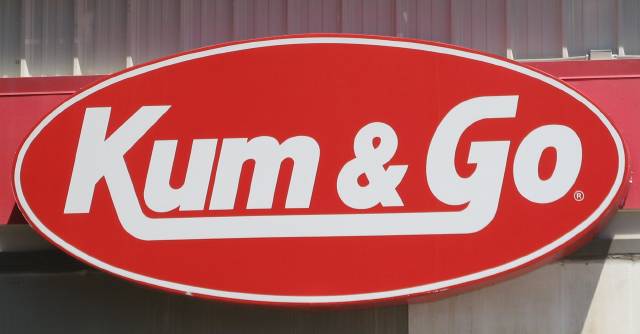 I mean, c'mon ... 'come' is too hard to spell? Too many letters? Not to mention, that's just not a business I'd like to patronize!
Back in the car, I took more pix of Gus' head from the side. Finally caught him drinking!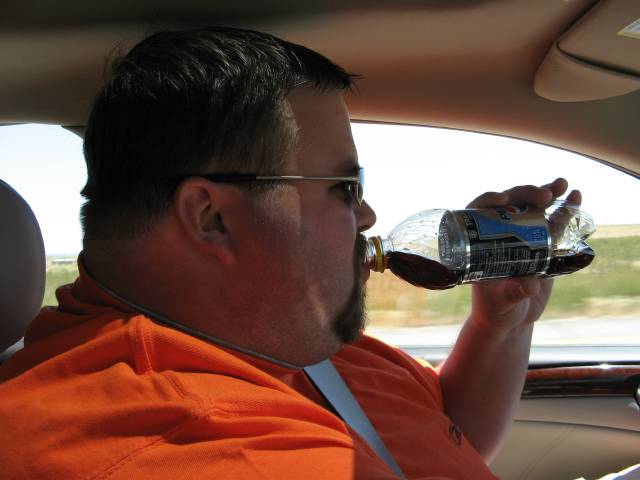 Apparently, though, Gus was growing tired of my shots.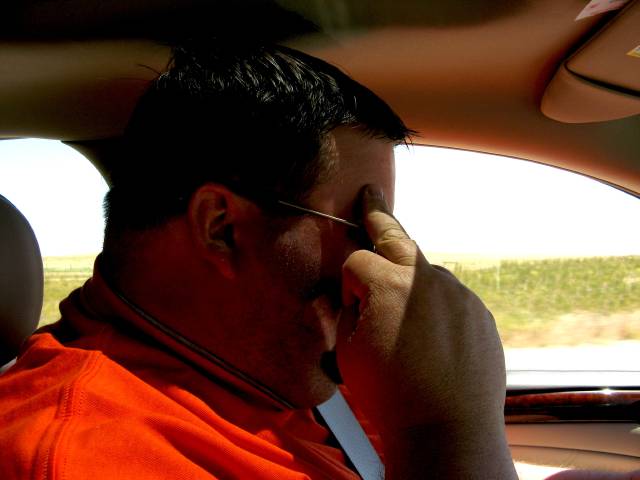 The landscape was still flat, with hills closer by and mountains in the distance.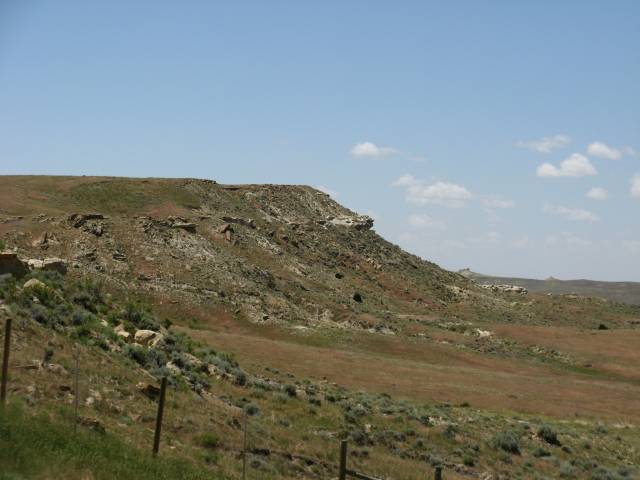 Finally we hit Casper.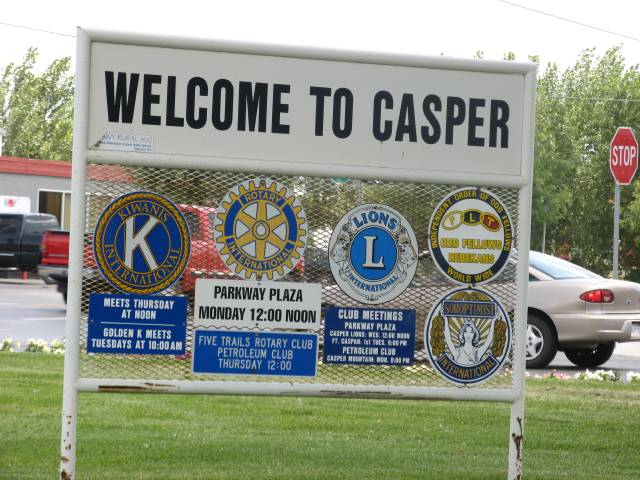 And what do I see soon after? This, which instantly made me angry.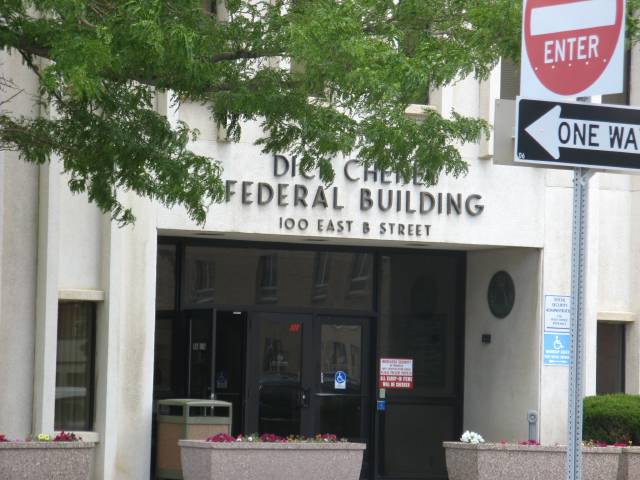 I know he's a congressman from this state, but after his term as the absolute worst vice-president in American history (under the worst president), and after committing act after act that should get him at the least impeached and at the worst placed in Guantanamo, you'd think that the people of Wyoming would be so utterly humiliated that they would remove his name from any buildings. But I guess not.
Ooooh, I'm mad just writing this!
On to our next stop. We drove through downtown, looking for the Ring of Peace. We were in a part of the city with small office buildings, sidewalks, churches, construction work. Nothing fancy. Gus was driving slowly, looking around. 'Where is it?' he said.
'Where's what?' I replied.
'The Ring of Peace!' he said angrily.
'Oh,' I said. 'Wait! There it is!'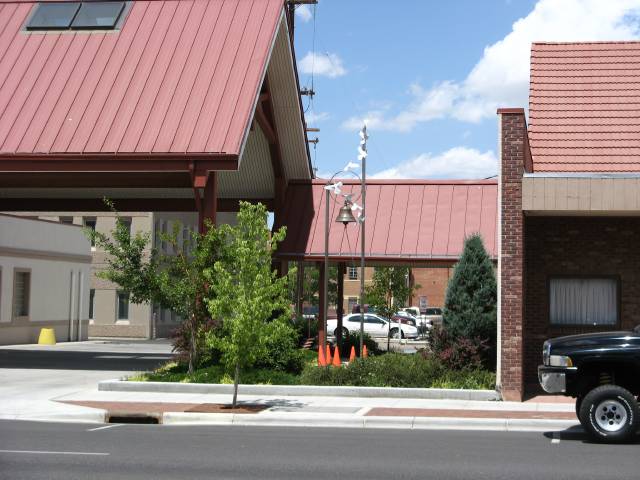 Stuck between a church and a small business, with absolutely no signs or markers anywhere, there was the Ring of Peace. It was pretty dinky and insignificant.
'That's the Ring of Peace?!' Gus said, 'We drove all this way for a $&!@#% bell and some doves? That's %$@#$ ridiculous! I was expecting something big, not a pole!'
By this point we were out of the car and walking toward it. 'Oh boy,' I was thinking, 'This is not nearly as nice as it should be.'
'Look where this is located! We almost drove right past it,' Gus protested. 'What are those orange cones in front of it? And they have packing tape wrapped around the side!'

He was right. Evidently they didn't want people ringing the bell like they were supposed to, so they just taped the bell's chain to a pole. With packing tape. There was also a little sign: 'Warning! Falling doves!'
There was a plaque explaining the purpose of the Ring of Peace.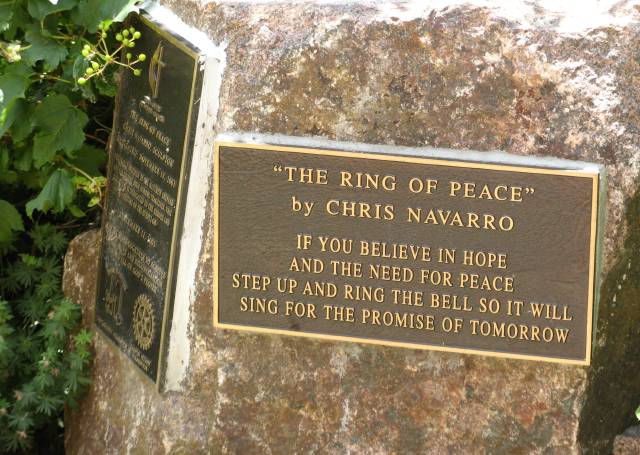 Another plaque next to the first explained that the Ring of Peace was originally for Matthew Shepherd and the victims of Columbine. Then they added the victims of 9/11 on top of that.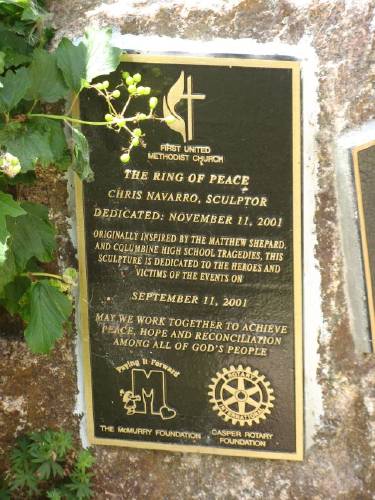 Now, I'm not an expert, but this is a bit ridiculous. You shouldn't just keep adding more and more onto a memorial. Let it stand for what it originally stood for, and that's it.
The Ring of Peace is a nice idea, but it's just sad how run down and crappy it looks. It was possible for me to take a nice picture of it, but only if I was very careful to crop out almost all the surroundings.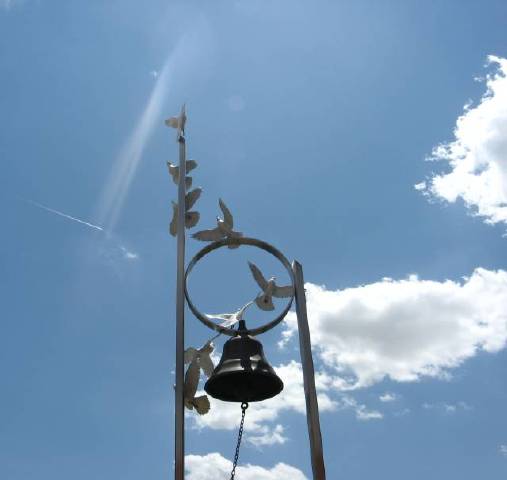 How disappointing! Gus just shook his head. 'I can't believe you had us stop here.'
'It wasn't too good, was it?' I replied.
We drove a ways away to find the Fort Casper Museum.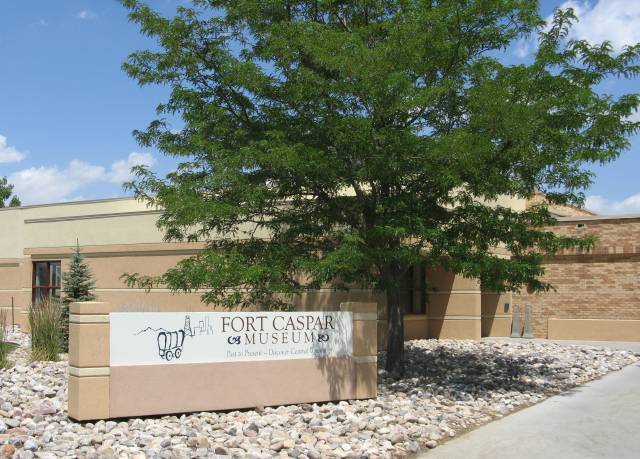 The Museum costs $2 to get in, and as I said to Gus as we were leaving, 'It's barely worth that.' It was tiny - it literally took us less then 5 minutes to walk the entire way through it, since there was hardly anything there. The only remotely interesting thing was a wanted poster for Butch Cassidy and the Sundance Kid.
Once you're through the building, you wander outside, where they have a recreation of the original Fort Casper on several acres.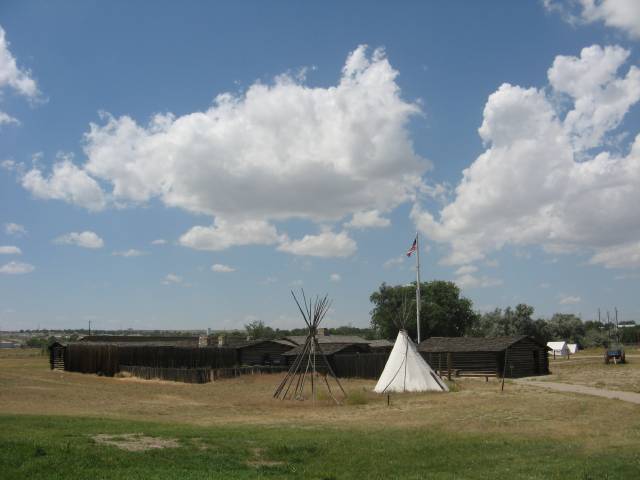 It was interesting, I must say. We saw the living quarters a soldier would have lived in.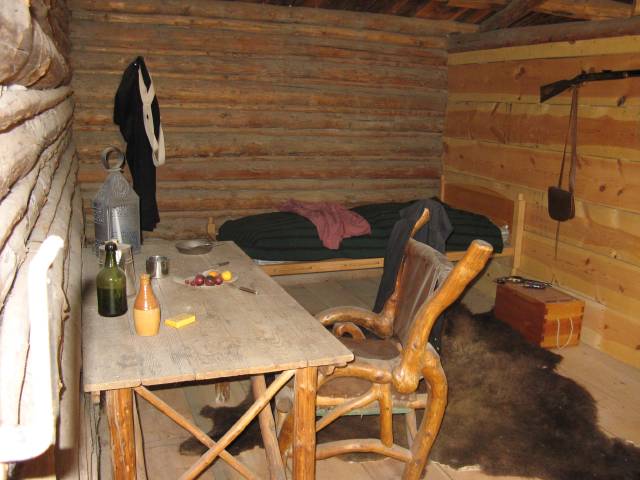 Some bunks and a mess hall.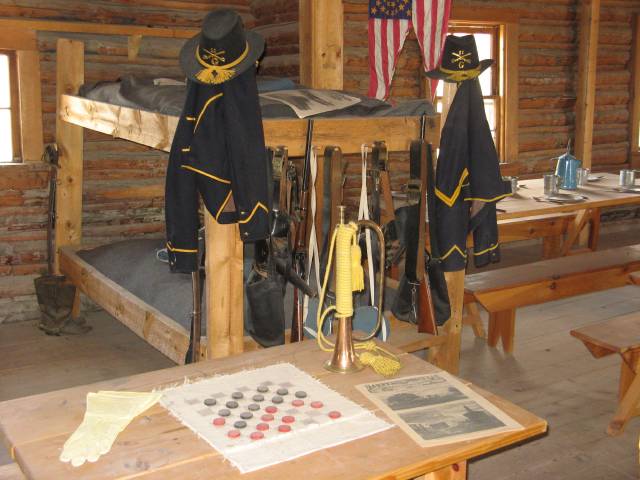 I especially enjoyed the store, where soldiers could buy food and other extras. The generic labels on the cans reminded me ofRepo Man- I expected them just to say 'FOOD' after I realized what the creators of this exhibit had done.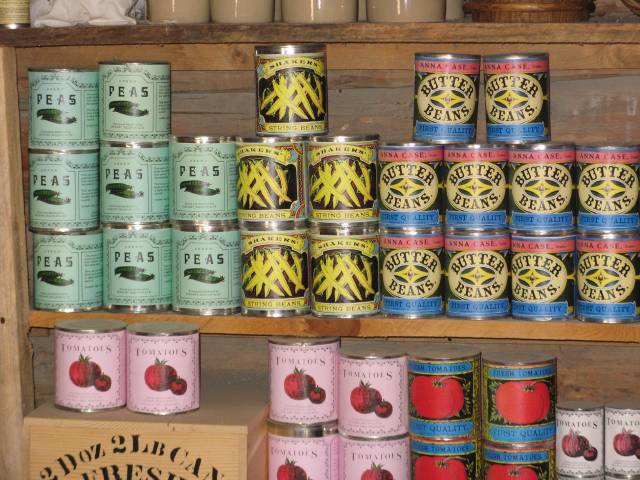 Outside it was hot and dry. Gus and I walked around, and I thought, 'Man, it would have been unpleasant to be garrisoned here, wearing wool uniforms, in this heat. But at least you'd have a nice view when you looked outside.'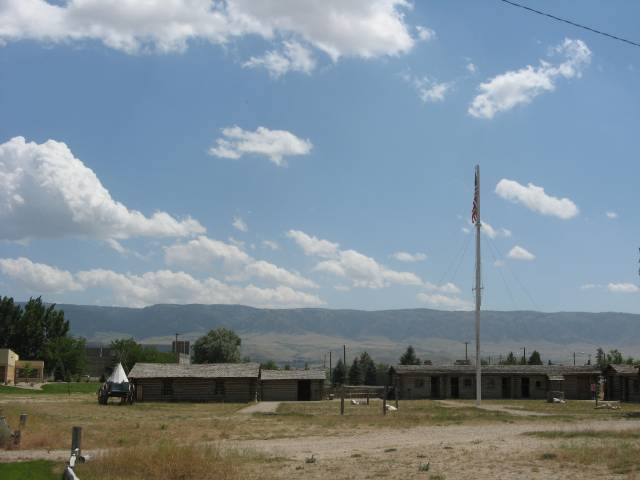 OK, this was enough for us. We headed back to the car. Along the way, I noticed how dry the grass was, and how green the area by the Museum was, due to all the watering.
The green is the work of people, but that dry brown is what is supposed to be here. Not the most welcoming environment, is it?
It was past lunch time, and we were hungry, so Gus and I drove around looking for somewhere to eat. We had no luck - the Mexican place we drove to was closed, since it was 1:40 pm, so we finally had to settle for a Subway. We walked in only to find that the A/C was broken. 'We're eatin' in the car,' I whispered to Gus. He nodded quickly.
The woman behind the counter was nice enough, but she called us 'Buddy' constantly.
'What kinda sandwich you want, Buddy?'
'What kinda bread, Buddy?'
'Whatcha want on that sandwich, Buddy?'
'Hey, Buddy - chips?'
We left, and for the next 3 hours, Gus and I called each other Buddy constantly.
On to Douglas, WY, for the Pioneer Museum. After the lackluster Fort Casper Museum, we weren't expecting very much, especially since Douglas has a population of only 4,000. We pulled up at around 3:30 pm, thinking this would be a quick one.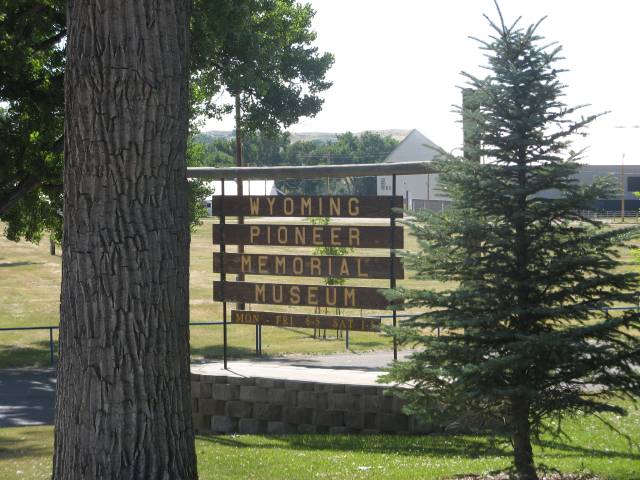 We walked in, and the lady who greeted us was as nice as could be. We entered the first room, and it was huge!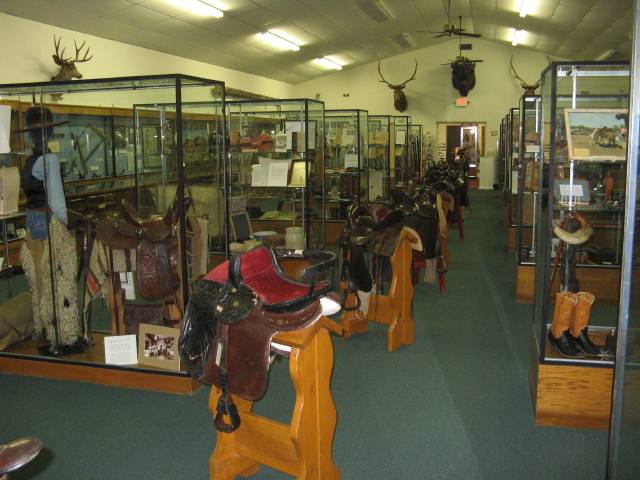 They had everything in this room: clothes, rodeo memorabilia, maps, pictures, saddles, buttons, signs, and much more.
How about a huge collection of antique rifles?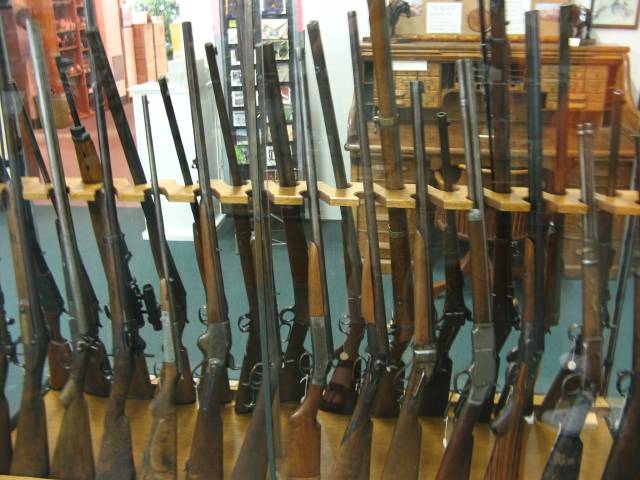 A bugle found after the Battle of Little Big Horn.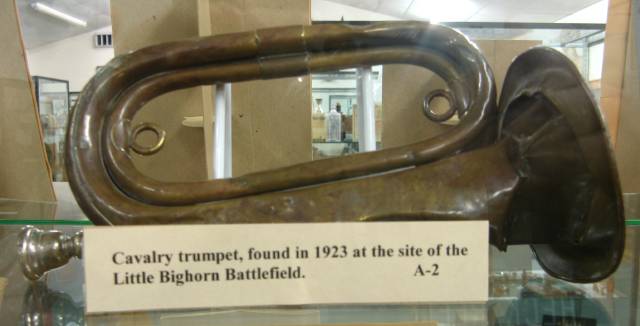 Weapons used by train guards to beat up hobos and others trying to ride the rails for free (next to this was a wooden club that had square edges where it would have hit someone).

And of course, mounted animal heads.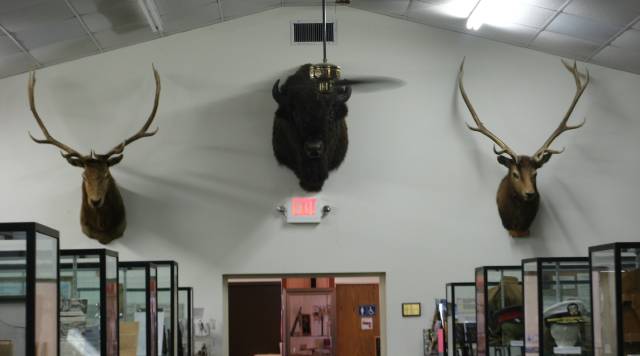 Including a moose that gave me a weird look.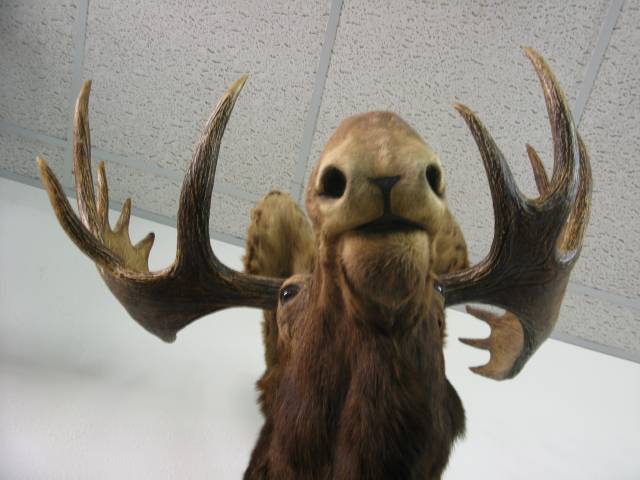 There were things from the entirety of the area's history, even more recent stuff. For instance, during WWII, there was a POW camp for German and Italian prisoners in Douglas. One of the exhibits had a document that listed the 10 rules that POW guards were to follow.
Rule #1: Each guard on post will carry a whistle.

Rule #2: He will not allow any prisoner to escape.
Gus didn't think that was good. 'Number one is carry your whistle, and numbertwois don't let prisoners escape? Isn't that backwards? 'Well, yeah, the Nazi killer got away ... but I have my whistle!'
There was another room after this one, which had an original bar from a local saloon in it. Gus bellied up to the bar and tried to order a laThe Shining, but Grady was nowhere to be seen. Which is a good thing.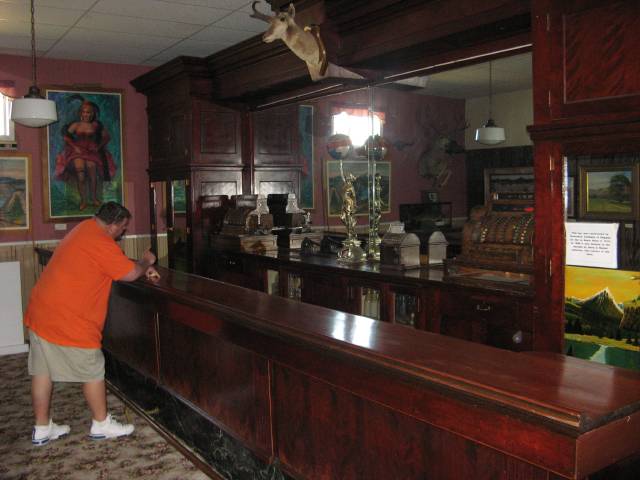 Right behind Gus, though, was another animal head. But what the heck was the deal with the tongue? What a weird thing to ask your taxidermist to do!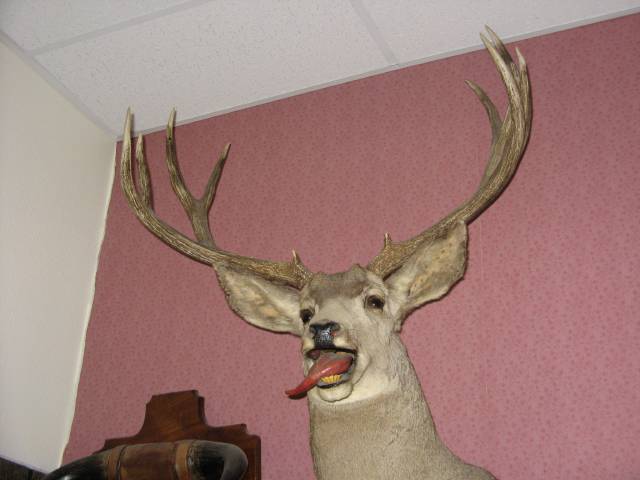 After this wasanotherroom. 'Good God,' I said to Gus, 'This thing is huge!'
This room had wagons, a tipi, lots of Indian clothes, shoes, and artifacts, and a huge pile of saddles among many other items too numerous to catalog.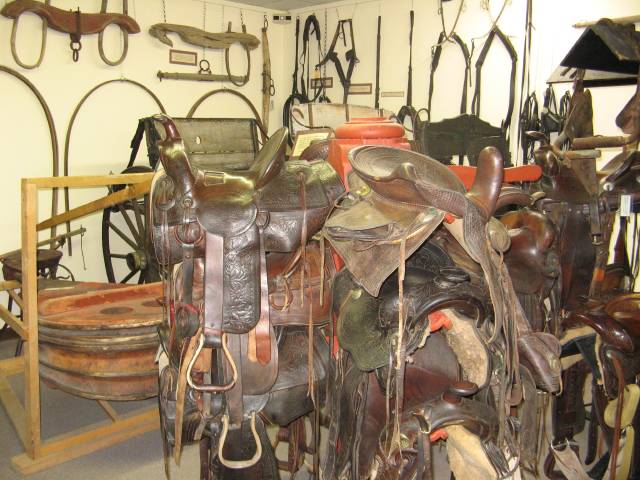 From here was yetanotherroom! This one housed documents and pictures, and it appeared to be available to researchers.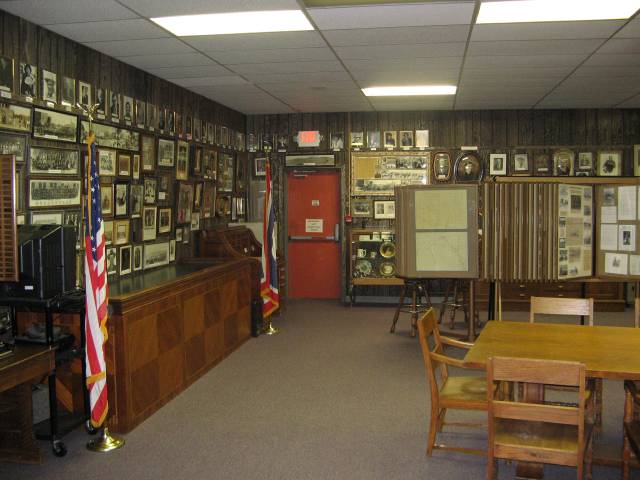 And then another room. And another. And another. This place was freakin' gigantically enormous! I looked at Gus and said, 'This is unbelievable!'
Gus replied, 'You know, I was thinking that this town of 4000 has something this nice, and Marshall doesn't have anything like it.'
'I was thinking the same thing!' I said. And in fact, I had been. What a nice museum - it had literallyeverythingand yet our home town of 13,000 had nothing. Well, Jim the Wonder Dog, but that was it.
On we explored. An exhibit showing kitchen equipment.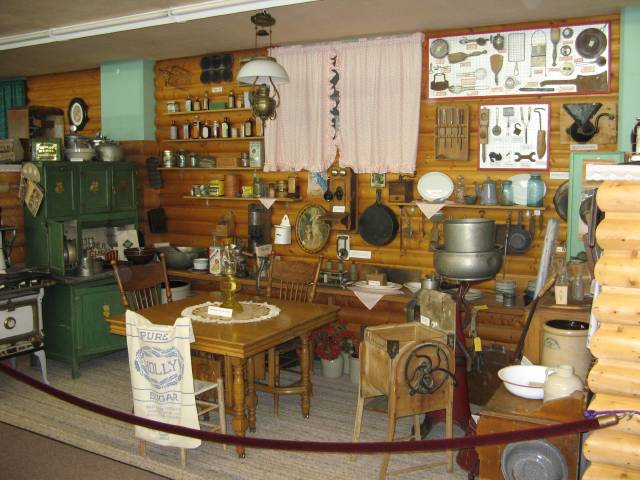 'Do you see what I see, Gus?'
'Yep!'
And there it was in the middle of all the kitchen stuff - a white Nabisco metal box for saltines.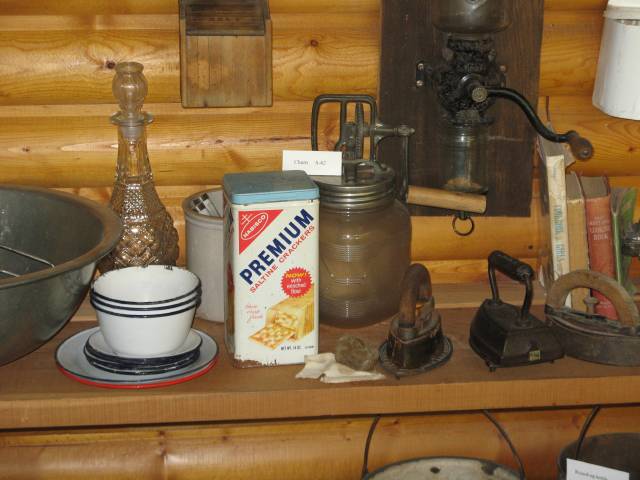 Our Mom had one exactly like it, and has had it as long as we've been around, so at least 40 years or so. It's got crackers in it right now, and it's something Gus and I have opened a thousand times. It was pretty funny to see it as a museum piece.
And then we turned a corner and saw a collection of dolls. 'Noooooo!' said Gus, 'Get it away!'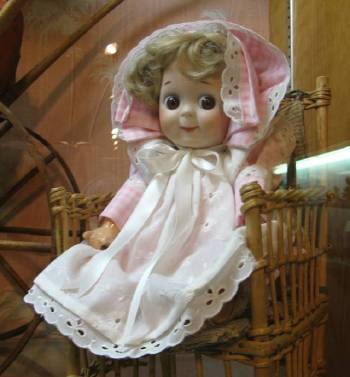 Gus is scared of some dolls. In fact, in one room of my Mom's house, she has some 100-year-old dolls wearing antique christening dresses. Gus calls that one 'The Ghost Room' and refuses to go in it ... unless he has an axe. To my knowledge, he has NEVER gone into The Ghost Room since we've lived there (starting in 1979) unless he had a weapon of some sort. To fight ghosts. 'Cause we all know that ghosts are afraid of axes, hammers, and football helmets.
Gus really didn't like this doll ... the eyes were staring right at him, he said. I turned to look. 'Gus, there's nothing wrong with this doll!' I turned back around. 'Gus? Where are you, Gus?'
I finally found him on the opposite side of the room, balled up in a corner, weeping and sucking his thumb. 'Doll's eyes ... lifeless eyes ... don't like the doll's eyes ... evil ... so afraid ...' My mouth opened as I realized that his hair had turned snow white. And at that moment, I heard a rustle as something fell to the ground behind me, as though someone had stirred on a table and was moving limbs that had been frozen for years. I turned my head and gasped when I saw that where that doll had been but a moment before, there was now onlyempty spaceon the table.
OK, so that didn't happen. But he really didn't like that doll, and it creeped him out.
We ended up spending close to 2 hours in the Douglas Pioneer Museum, and we really can't recommend it enough. If you're ever in that part of the country, make a stop there and check it out. It's amazingly good, and very interesting. Just avoid THE DOLLS!
It was another 2 hours to Cheyenne, WY, our stop for the night. Gus had reserved us a room at the Best Western Hitching Post Inn.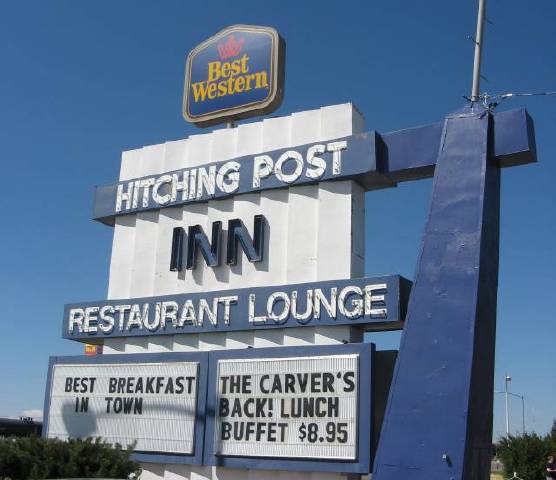 We opened the door to the room, and Good Lord! That room were huge! Huge! Huge! Huge! Sorry ... that's the echo from yelling in the room - that's how big it was. Here are some pictures from the next morning, after we'd spent the night throwing our crap everywhere.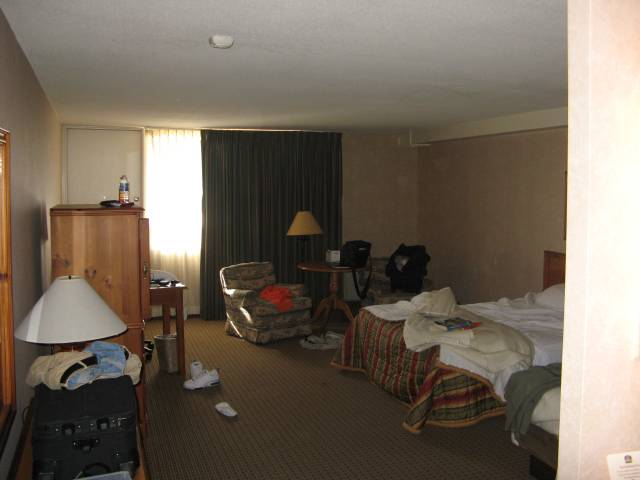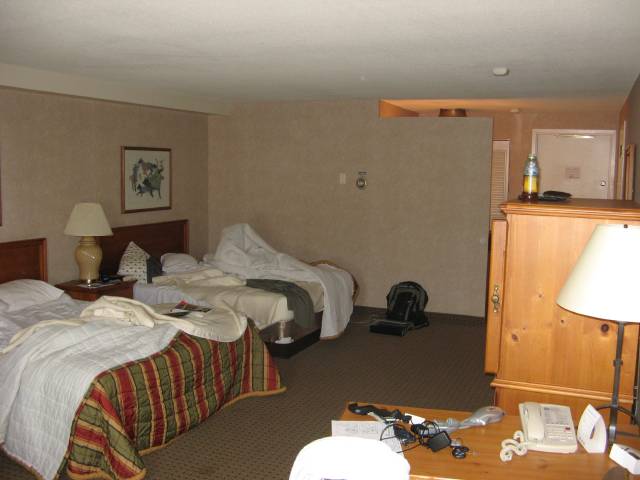 We settled in, and Gus got ready to go the bathroom. That meant he had to take his t-shirt off. It's best that you don't ask any other questions at this point. He left the room, and I immediately walked over and put his shirt on so that when he walked out he would see me in it and much hilarity would ensue. While I waited 45 minutes for him to rejoin me, I took some pictures of me in the mirror with his shirt on.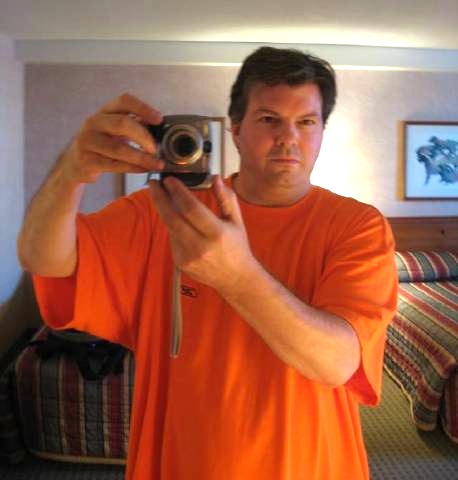 Gus finally came out of the john. 'Take my shirt off,' he ordered. I complied. So much for the hilarity. The big question now was, where do we eat? We got into the car, and Gus looked in the guide book. 'Los Amigos looks good. I really want Mexican tonight. How about that?'
'Sounds fine to me,' I responded.
We drove through what appeared to be downtown Cheyenne. Needless to say, the cowboy theme was in full flower everywhere.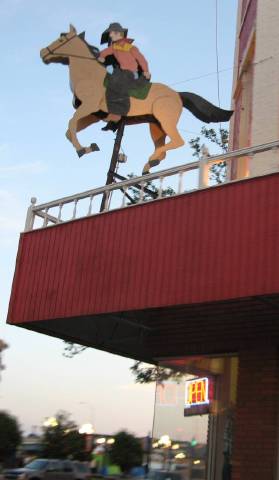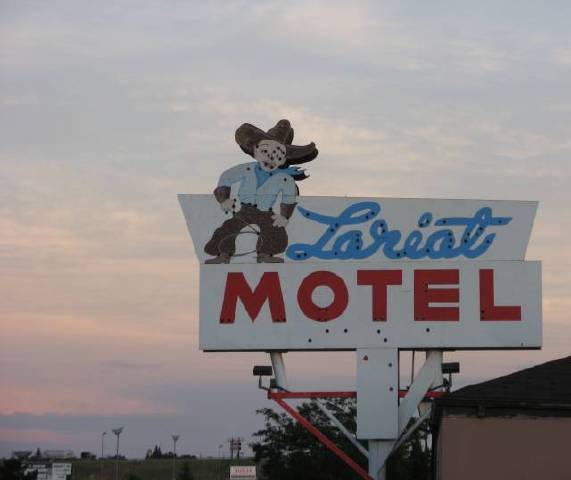 We arrived at Los Amigos at 8:35 pm, and guess what? They closed at 8:30. PM. At night. 8:30?! That's a bit early, ain't it? Gus was extremely disappointed.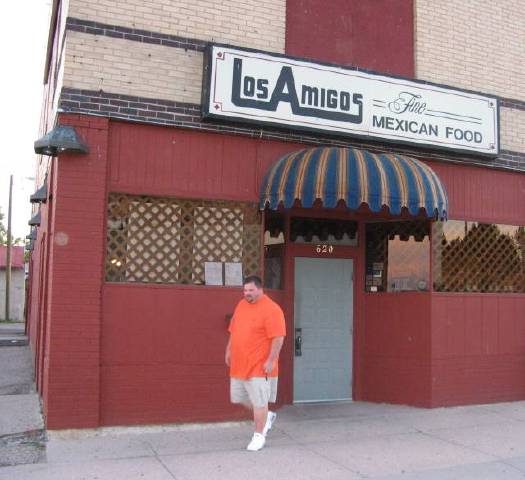 Then began the great 'We WILL find a Mexican place, dammit!' adventure of 2007. We had a GPS device with us, so I'd look up a Mexican place with it, we'd drive there, find it was closed, and repeat. Finally, after this happened 4 times, I suggested we actually CALL first before we drove there, especially since the GPS provided the address AND the phone number. No luck. No luck. No luck.
OK, screw Mexican. Time for some good ol' American! We found a Pub & Grill that looked good, called them, and made sure they were open. We then tried to figure out which way to turn out of the lot we were in.
'Turn right,' I suggested.
Gus looked at me skeptically. I'm not known for my navigation skills, to put it mildly. As in, I could get lost walking in a straight line.
'Let me look this up,' he said. 30 seconds later, he had it figured out. 'OK, we go right.'
'Ha! I was right! I was right!' I said.
'You had a 50 percent chance! You were just lucky!' he responded.
True, but c'mon ... let me enjoy my moment in the sun!
We reached the Pub & Grill. It was at the site of a former train depot, and it really looked pretty cool.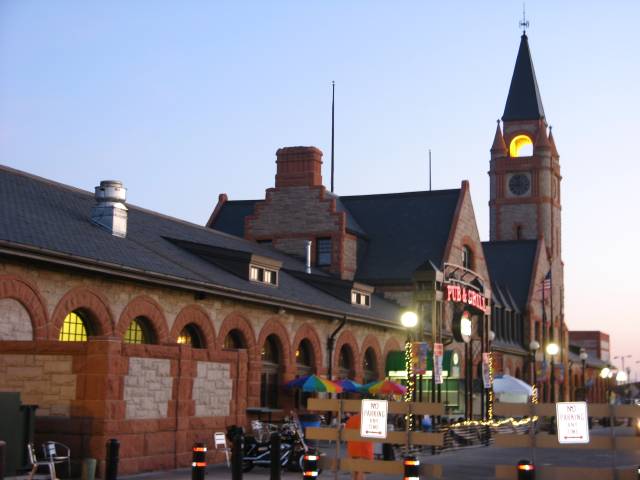 There was an outdoor concert going on right next to us, with a lot of people (1000?) in attendance. The band was playing covers of hard rock & metal tunes - Guns 'n Roses, Nazareth, Autograph ('Turn up ... the radio! I wanna hear it, give me some mo'!') and so on. Pretty cheesy stuff, but the audience seemed to eat it up.
While we waited for our food to arrive, I walked over and took a panoramic movie of our surroundings. You can hear the music on it as well. It's like you're there!
About 50 feet over were some giant cowboy boots that had been painted in different ways.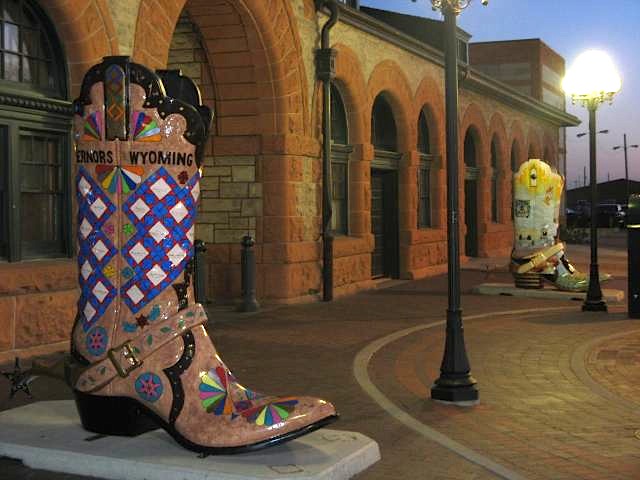 We asked the next day, and it turns out that these boots are all over the state, with most of them in Cheyenne, the capitol city. Artists are asked to paint them so that each one is unique. It's a cool idea that other cities have done with other objects, and these two were very nice. I stood between them and snapped first one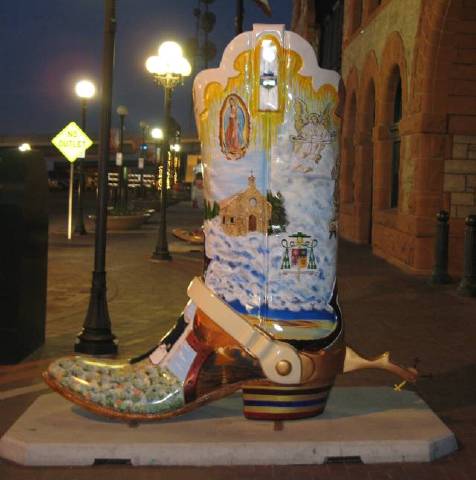 and then the other.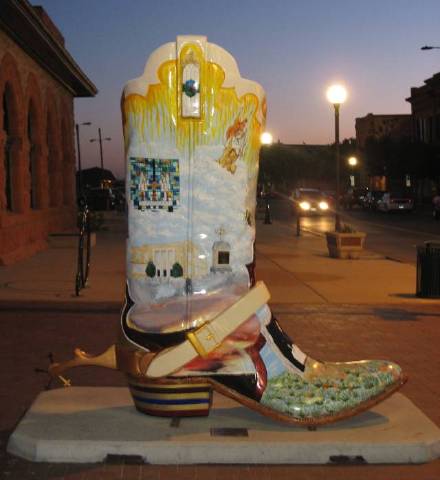 I walked back over just as dinner was served. Gus had a buffalo steak, which he enjoyed with gusto, while I had a very tasty portobello sandwich and a local microbrew. It was one of our better meals on the trip, and we both enjoyed it.
Afterwards, it was back in the car and back to the motel with the BIGGEST ROOMS IN THE WORLD. We hung out, with Gus doing a sudoku puzzle and me using the Net, while we watched a rerun ofJackasson TV. Gus fell asleep before I did, but eventually I couldn't keep my eyes open any longer. I put my Mac away, yelled at Gus to put on his breathing apparatus so he didn't keep me awake all night snor ... gggpkkakk ... narrrkkssnppklgg ... snoring, and then hit the lights.