We arose early in Tulsa this morning, around 7:30 a.m. Way too early after finally getting settled in our room at 2:30 a.m. After we performed our morning constitutionals, we drove over to Oral Roberts University to pick up David's best friend from college, Elissa, who works for Richard Roberts, Oral's son. I don't know if you've ever seen Oral Roberts U., much less heard of it unless you're an independent charismatic, but it's got one of the most amazing campus entrances in the world: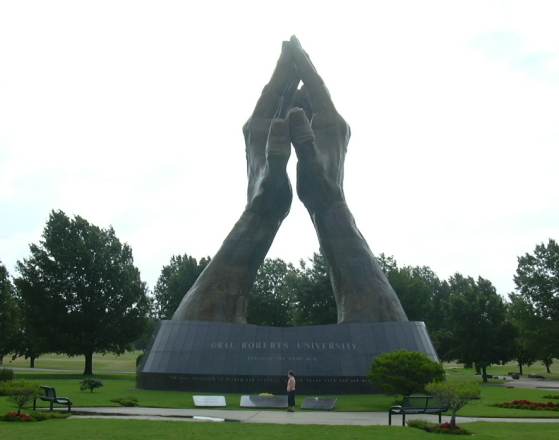 Yes, those are famous "gigantic praying hands" of Oral Roberts U. Pretty incredible, really. And here are some more shots of that great ORU architecture. Here's the building next to the administrative building, where Elissa works:

And finally, here's the building that Elissa called "The Death Star". Pretty wild, huh?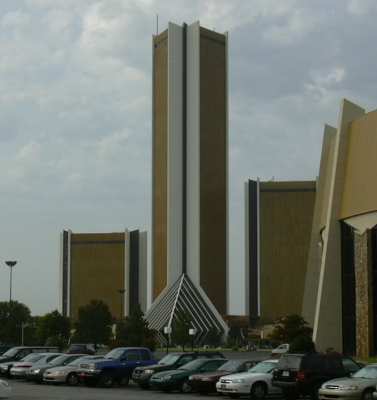 Now, let's play a game called "Guess the Decade". Can anyone guess what decade ORU's architecture dates from? Do I hear the 1960s? Yes, you've got it!
After eating a nice breakfast with Elissa at the St. Louis Bread Company (Great jumping Jehosaphat! … we leave St. Louis, and immediately eat at … a restaurant we at in St. Louis several times a week!) and then dropping her off.
We'd moved about five feet when Denise realized with a gasp that we had left our pillows at the motel. So back we went to get them. David was driving the van, since he needs Dramamine to ride in a car, which means he can't do much if he's not driving except drool and giggle. I began to suspect that David had actually taken Dramamine before he began to drive, as a few miles outside of Tulsa, near the town of Sepulpa, David accidently got on Business 44, which meant that we took a detour through lovely downtown Sepulpa on the old Route 66.
We drove for a bit over an hour before we hit Oklahoma City. I wanted to stop & see the Oklahoma City Memorial for the 1995 bombing, as I'd heard it was very well designed. Unfortunately, David took the wrong exit (the Dramamine?), and we ended up on the far edges of the city. After extensive driving on city streets, we made it.
Before I go on, let me show you this picture:
Hey, quick question: is this Tulsa or Oklahoma City? Or another Oklahoma city? Answer: I have no idea! I can't for the life of me tell which town this is. Why, you ask? Because all Oklahoma cities look like this: flat, uninteresting expanses of strip malls and subdivisions, and then, for variety, subdivisions and strip malls. Borrrrring. It's basically like driving up and down Lindbergh Blvd. in St. Louis, except that St. Louis has a lot more trees. Blech.
Back to the memorial. It was pretty stunning, engendering emotions of sorrow, contemplation, & pity. It has been brilliantly thought out in a way that is understated yet moving, with the focus always on the victims. It pains me to see what Oklahoma City has done in light of the monstrosity that our federal government has planned for the World War II memorial on the historic mall. The World War II memorial is needed, I agree, and it is ridiculous that it has taken this long for a memorial to be built. But the artist's renditions show a bloated, over-designed, overly-busy hulk squatting in the middle of the currently open mall in DC, and it saddens me to see it. Oklahoma City got it right. The Vietnam War Memorial got it right. What can't the WWII Memorial get done the right way?
Here's a view of the OKC Memorial from the Survivor Tree, a tree that miraculously made it through the explosion:
You can see the Reflecting Pool, with one of the Gates of Time on the far right. There is a Gate of Time at each end of the Pool. One gate has "9:01" engraved on it, while the other has "9:03". I believe the first time was the minute before the blast, and the second time is the minute after the blast. The Pool represents the actual moment of the blast. Behind the Pool you can see the Field of Chairs. There are 168 chairs, one for each person killed in the explosion. The smaller chairs represent the little children who were in the day care center when the bomb went off, and those little chairs create an almost unbearably sad image.
Each chair is gold & bronze, and it sits on a clear glass base. At night, the base lights up, and the chairs appear to be floating. It's a beautiful, touching effect.
As we turned around from the Survivor Tree to walk down to the Reflecting Pool, we noticed some graffiti written on a building next to the open air memorial. At first I thought it strange that the city had allowed a vandal to write something so near to the memorial, and then I noticed a sign next to it, explaining that it had been written by a rescue worker in 1995, and the city had left it there as a testament to the workers. An authentic cry of passion, that's for sure.
Here's the Reflecting Pool and the second Gate of Time. Tranquil yet ominous.
Those readers who followed along last summer as we traveled east know that we went to Ground Zero while we were in New York City. That was a powerful experience, but Ground Zero was still a gaping hole in the ground, unlike the finished memorial in Oklahoma City. It was rawer in New York, but our emotions weren't as channeled as they were today. It will be interesting to see what happens in NYC.
One similarity at both disaster locations was the wall of memorial items that folks put up spontaneously. In New York, the wall covered blocks and blocks, while in Oklahoma it was about a half block long. However, NYC's was only a year old when we saw it, while the OK items have been there since 1995. Big difference, but no less touching.
Two items leapt out at me on that wall. The first was a small shrine to two little boys—brothers—who died in the explosion. One was four, and the other was two. What can you say about that tragedy?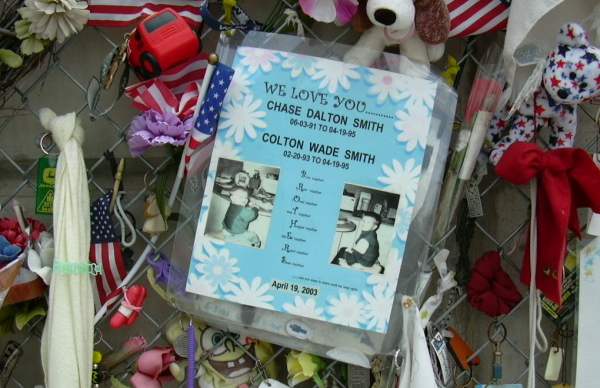 The other was more recent. A firefighter named Ray Downey had traveled from New York City in 1995 to help with the rescue and recovery efforts. In 2001, he was one of those killed trying to help folks in the World Trade Center. I think a lot of people in Oklahoma City feel like they have a special bond with people in New York, since both cities have suffered as they have. This man's death only cements that bond even further.
After viewing the memorial, we ate at a very nice deli across the street. It was delicious, and we all felt refreshed. David told us that he loves "Queer Eye for the Straight Guy" on the Bravo network. I told Denise and David that Judy Garland was only 4'11", just one inch taller than Denise, but that she had weighed 180 pounds at one point. 180 pounds and 4-foot-11-inches! Whoa! Denise was aghast. I said, "I know! I mean, I used to weigh 180 pounds!" Denise helpfully reponded with, "Oh, you're nowhere near that now!" Hey, thanks honey!
Another Denise-ism. As we were driving across the northern part of Texas, we ran into a terrible storm. Horrible rain, monsoon-like, and hail, and wind that whipped everything around. We were worried we were going to run into a tornado, it was so bad. We had to pull off the road at a rest stop, but the rest stop was so packed that there was a line of cars and trucks backed up way before the rest stop started. After waiting 15 minutes, the rain abated enough that we could proceed. As we drove down the road, we saw a semi truck overturned on the side of the road. It looked as though a child had just flipped a toy truck over on its side. There were cops there, and other trucks, and it didn't look as though anyone was injured. "Holy crap!", I yelled when we saw it. Five miles down, there was another overturned semi. And then a mile later, another! And then a fourth! "My God," said Denise, "They're dropping like hot flies!"
One thing about Texas weather: it hits you hard and heavy, and then it's all fine. Here's a photo showing the view ahead of our car. On the left side, a hellish storm; on the right side, paradise (or at least as much paradise as you can get in Texas).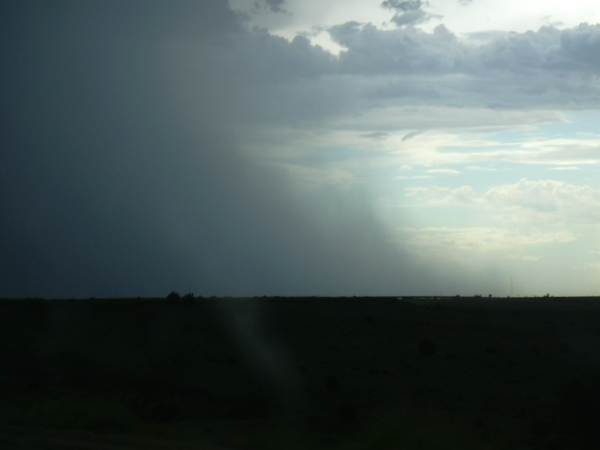 And how bad can the wind be? I think this says everything: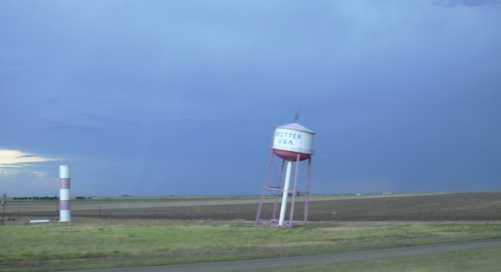 Of course, after the storm, the sun came out, and it was glorious … inside the car, where it was air-conditioned. Outside, the sun was shining through the clouds and it was gorgeous, but it was still Texas, and it was therefore HOT.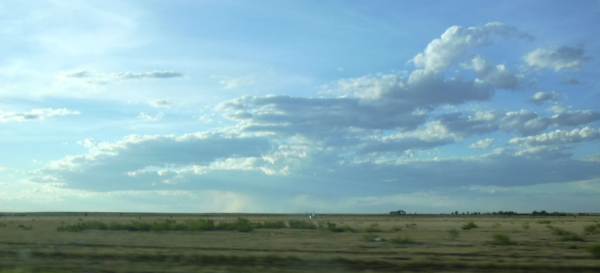 …
We're in New Mexico! It's 7:30 pm, and we finally made it through Texas. It's not possible to get through Texas fast enough, in my opinion, but we did a good job of it.
About three hours before we hit Albuquerque, we stopped in for dinner at Tucumcari, a town of about 6000 people. We ate at La Cita, a Mexican restaurant. Here are the relevant signs outside: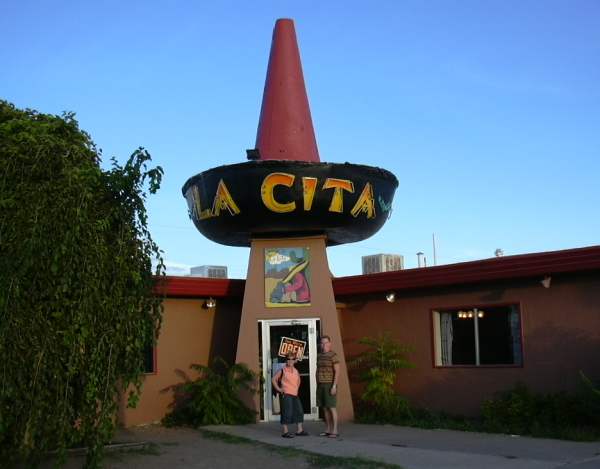 The best part of the meal? The menus all had this phrase on the top of them: "Complimentary collectors, menu". Yup, that comma made it all clear. At any rate, the food was good and cheap.
We arrived in Albuquerque around midnight. We were tired after a lot of driving, but we're glad to be here. Good night!