We woke up. I didn't sleep well, as the floor was hard, so I ended up tossing and turning all night. After we all showered and cleaned up, we all decamped to Airstream, TJ's favorite place to eat breakfast. It's a restaurant that looks like a classic Airstream trailer. The outside is brushed, curved metal, which the inside is curved to continue the illusion. The decor is retro '50s, and there are vacation scenes from the '50s, '60s, & '70s up on the walls. All in all, a very cool place to eat.
The food was fabulous. TJ is right … this place IS good. I had something called the Mr. Frenchy Crunchy, or something like that. It was french toast with a crust of corn flakes. Oh my, but it was tasty. David had an omelet with some sweet sun-dried tomatos, while Denise had eggs benedict, which she thoroughly enjoyed.
Jay left to go to work, so we all jumped in TJ's car and headed off to the new Getty Museum, one of the jewels of Los Angeles. Along the way, we drove through Brentwood, a tony area of LA and the former home of OJ Simpson. We were stopped at a stoplight when we noticed a little white dog frantically hanging out of his owner's driver's side window. He wasn't barking, but he was very interested in something on that side of the car.
We pulled up another foot, and it suddenly became clear what the little white dog was interested in: another dog, of course! It was an amazingly cute scene. I do have a weakness for dogs.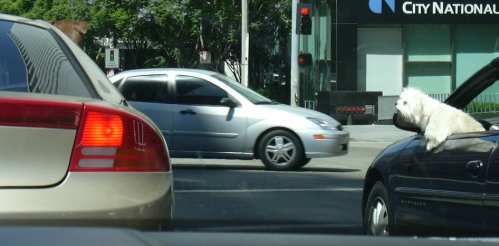 We parked at the foot of the steep hill that the Getty sits upon, and boarded the tram. You can't park near the Getty; instead, you must take the tram. It's designed to preserve more of the area that the museum occupies. After 10 minutes or so, we were there.
The architecture of the Getty alone is beautiful. Gorgeous marble, erect lines, graceful curves. Water is carefully used to accentuate the architecture, in fountains and pools, burbling over rocks and glinting white and clean in the air. And since it's on a hill, you can see lots of LA. From one direction, you can see the smog atop the Valley, a brown sticky layer of dirt protecting the buildings below from the light-blue skein of air above it.
From another direction, you can see some of the palatial homes of Hollywood's elite. Safe in their fortresses, they gaze down on the hoi polloi below them.
Once we'd finished admiring the view, we entered the museum. It was stunning, and we ended up spending around 5 hours there. Remember, all the pieces we saw were from Getty's private collection. He was wealthy, and he had good taste in art.
First were the Classical pieces, from ancient Greece and Rome. As I mentioned in an earlier entry in this journal, I really like that period in history, so I'm always interested in learning more about it. We saw pottery and coins and busts and weaponry. In particular we viewed an enormous statue of Hercules, which evidently was one of the pieces that Getty was most proud of, and which inspired him to display his collection.
Next we viewed a collection of photography from the 1960s. This was a collection that included works loaned to the Getty, and it was one of the best things I've seen in a long time. The photos were taken by three artists—Garry Winogrand, William Eggleston, and Diane Arbus (one of my favorites)—and they were all in black and white. Fabulous, fabulous stuff. Winogrand's almost formalistic compositions I found inspiring, while Eggleston's naturalistic images of the south repaid close examination for the small but telling detail. And Arbus? Arbus' people are always fascinating, no matter how conventionally grotesque they may be. I read in the notes that she sometimes photographed the same person hundreds of times over several years before she was satisfied with the image she captured. It makes sense. Her people are immediately knowable in their postures, their eyes, the set of their mouths, and the small, individual details that color a unique individual: a beauty mark, a lazy eye, or a purse and horn-rimmed glasses.
Here's an Arbus I liked: "The King and Queen at the Senior Citizen's Ball". Taken around the mid-1960s.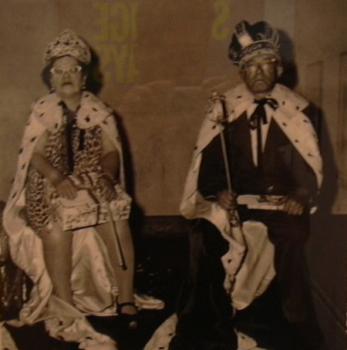 It's a bit hard to see, and I'm sorry about that. But I think you get the picture (pun intended).
Moving back in time, we saw some of the biggies: Renoir, Van Gogh, Cezanne, Degas, Monet, Manet. Great works, all.
A couple that I really liked: Renoir's La Promenade, from 1870. The clothing, the poses, and especially the way the colors are expressed with the paint.
And Millet's Man with a Hoe also interested me. The picture is blurry, but you can see the weary peasant resting, while behind him are fields already fertile. In the foreground is the worker, in the background are his dreams, the reason for his work.
We also saw some furniture that was amazing. Giuseppe Maggiolini created a table in the late 1700s that was stunning. The top of the table in particular had some neat effects that we now think of as routine thanks to computer manipulation of images, but for its time, I wonder if it was considered clever or old hat. I'm talking about the way Maggiolini made it look like the top of the table on the left side was rolling up. If anyone can tell me if the effect was unique or common, I'd appreciate it.
I greatly enjoyed Freidrich's A Walk at Dusk, a romantic painting from the 1830s, but my photo was horrible. This romantic work had it all: a man in black, rocks carefully lain in a "druid" manner, a forbidding natural scene, and a crescent moon dimly lighting the area.
One of the last major pieces I saw was also one of my favorites: Ensor's rather surrealistic Christ's Entry into Brussels in 1889. It was a very large piece, probably 12 feet wide and 6 or 8 feet tall. Evidently, Ensor painted himself as Christ, and the crowd gathered to view his entry is an enormous collection of grotesques worthy of Bosch's Garden of Earthly Delights. The work was considered so scandalous that Ensor basically kept it hidden for most of his life, only displaying it publicly twice. Evidently it was quite the badge of honor for young artists to finagle a glimpse of the painting from Ensor. Here's one small selection from this mammoth work:
The last exhibition we saw was among my favorites for the day: medieval and renaissance illuminated manuscripts. The range of work was incredible, covering everything from large, monumental Bibles owned by royalty to miniatures Books of Hours owned by merchants. The smallest works were the most amazing. To display that range of emotion in an illustration of just a few square inches … it's almost unbelievable. My favorites were from The Vision of the Knight Tondal, created by Simon Marmion around 1475. Tondal dies and God grants him a vision of heaven and hell. Since I've taught courses in the past about "Literary Representations of Hell", I was really fascinated by this particular work. Unfortunately, every single one of my photos turned out poorly. Satan at work?
It was time for lunch at the Getty. We were all pretty hungry … looking at great art can do that. We ate at the museum cafe, and the food was quite good. We then decided to walk through the Getty's garden. TJ explained that there were actually several principles at work in the garden, in terms of layout and plant selection. Here's a shot of the garden from the outdoor food court: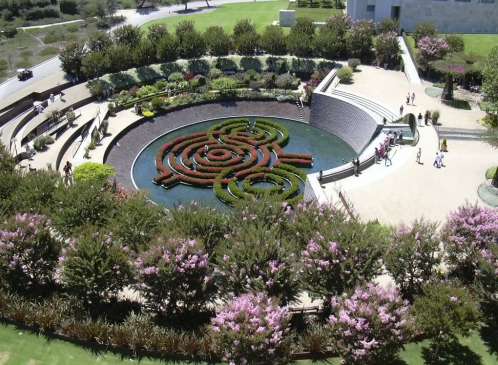 We descended down into the garden and began to stroll through it. As we walked, David and TJ mugged for my camera.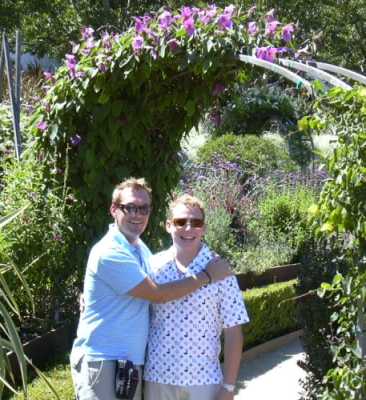 Pictures of best friends are always so instructive. You can tell a lot about a person when they're in a photo with another person with whom they feel their most comfortable. I really like this picture. These guys really care about each other, and that completely comes through. But what also comes through for me is a glimpse into the future. These guys are going to look the same in twenty years, and I think they'll still be close. A best friend is a gift, and TJ and David have found the best of gifts in each other. They're lucky.
As we walked closer to the center of the garden, I stopped to snap several shots of the flowers. I've always enjoyed taking pictures of flowers. Most of those photos are junk, but a few turn out well, and I'm always proud of them. Here are two that are OK. I'm still working, still looking.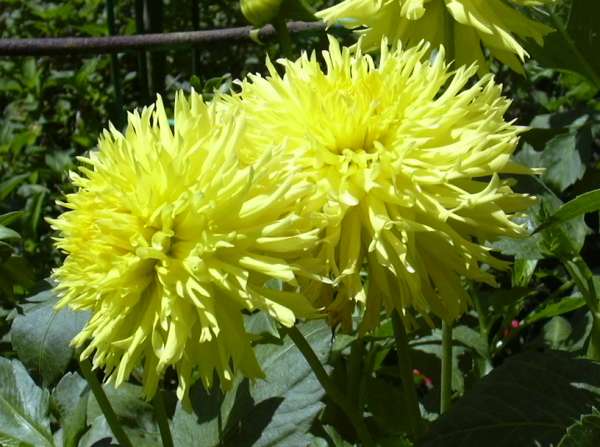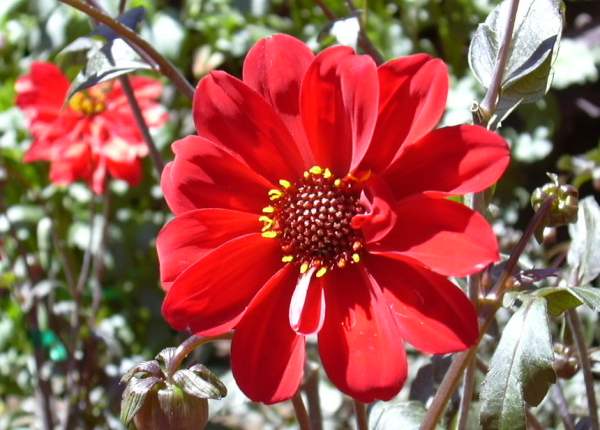 Finally we reached the bottom of the Getty's garden. It was infernally hot, but beautiful. The waterfall spilled down into the pool, and flowers wound their pattern through the water. Around us were bursts of flowers, and above the garden we could see a thick green lawn, with visitors sitting and sunning themselves, or resting under shady bushes and trees, while children rolled down the hill, shrieking laughter.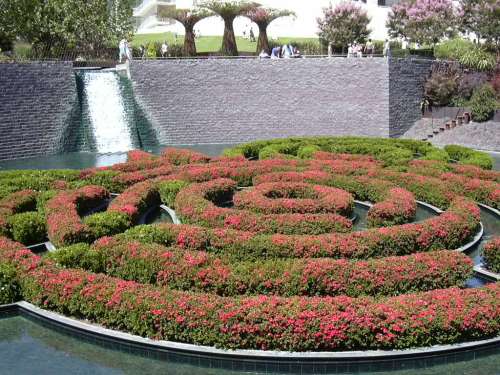 As we walked up out of the garden, we took a route that brought us through trees and along the man-made brook that became the waterfall at the center of the previous image. It became cooler, and we could once again feel the breeze on our skin. Denise stopped to admire some rocks in the brook, and I asked her to jump onto them from the bridge and pose. She did.
It was time to leave the Getty. It was a wonderful experience. Thank you, TJ! You brought art, architecture, and flowers into our lives, and it is much appreciated.
We drove back to TJ and Jay's, changed, and then headed for the Santa Monica beach, one of TJ's favorite hangouts. Enrich the mind and spirit in the morning, and now relax the body in the afternoon. We relaxed, and I continued reading Kim Newman's Anno Dracula, a fantasy novel set in 1888 Great Britain. It's an alternative history to Bram Stoker's Dracula. In that novel, Van Helsing and his compatriots defeated Dracula; in Newman's, Dracula defeated Van Helsing, married Queen Victoria, and vampirism becomes a status symbol amongst British society. And then the Jack the Ripper murders begin, but they are targeted at vampiric prostitutes … OK, OK, I know. But I was reading it on the beach! (And it really was a page-turner, and we all need those once in a while).
After a few hours, the sun started to set, and it started to get colder as the wind picked up.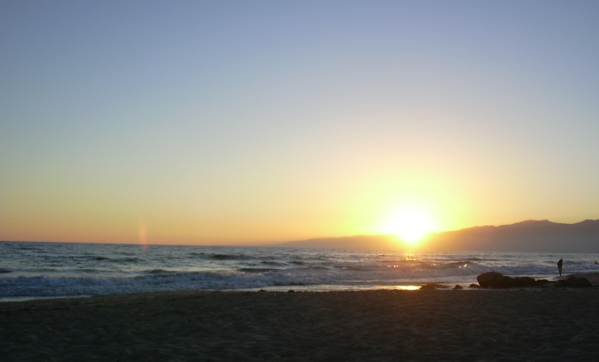 The sun was still there, but the moon was now clearly visible in the still-blue sky. With just a few minutes of daylight remaining, I captured TJ in one of my favorite photos on the trip: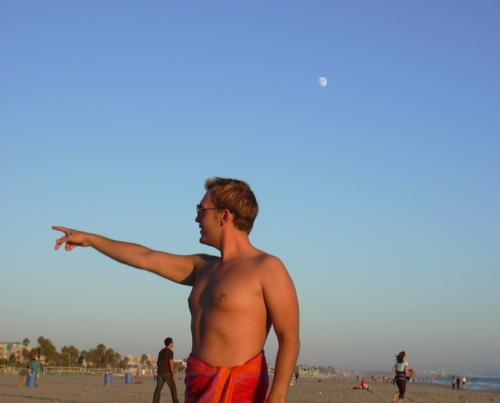 Jay will love that picture! I'm going to send him the original, suitable for framing.
Of course, I also had to capture David, fabulous as always.
And then, a few moments later, the sun disappeared from view behind the mountains, and we were left with figures on a beach silhouetted in pink and red and darkening blue, as waves crashed in a rhythm old as time.
We packed up our stuff and headed for the row of shops and restaurants nearest the beach. After walking back and forth on a sidewalk crowded with Friday night revellers, we settled on Sunflower Pizza for dinner. We each got a slice of pizza, and those, together with a pitcher of cold beer, helped nourish us as after a busy day. After eating, we slowly made our way down the street, stopping to look in the windows of shops. Once we reached the end of the block, we returned to TJ's car and his apartment.
Denise and I were tired; TJ and David, however, were not. So while I elected to read and fall asleep on the couch, Denise watched a movie on TV while TJ and David prepared to go out for the night into West Hollywood and hit the gay clubs and bars. Jay, unfortunately, was still at work on a reality TV show (he's an art director for an independent producer). I fell asleep, and then so did Denise. Around 2 am, David and TJ made it back in from a fun night that just about blew David's mind with the cornucopia of gay men he spotted—"So many! And they were gorgeous! I want one!"—and at the celebrities they spotted: "We saw Bobby Trendy! We saw Bobby Trendy! And we also saw a drag queen who's running for governor!". Jay finally arrived home from a very long day of work at 3:30 a.m. It had been a long day for everyone, and sleep was embraced by all.