Today was a busy and really fun and, ultimately, really weird day. We awoke in Berkeley at Moe and Grace's home. The view of the bay out their window during the morning can't help but make you happy and glad to be alive. After a quick breakfast of bagels, we packed the van and left Berkeley. Our aim was to see a few sites and then head for Napa Valley.
We drove over to Berkeley Pier, parked the car, and got out. According to TJ, the pier used to extend all the way across the bay, back in the days when people walked or used horses. Sometime in the past, the pier was blocked off so that you can still walk quite a ways on it, but nowhere near the entire length of the bay. As you can see, it's still a pretty long pier!

In the photo above, you can see where the pier is blocked. Just to the left of the center of the picture, between the two upreaches of the Golden Gate Bridge, you can see a wall where you can walk no further. Notice that the pier continues, however. You'll see what I mean in a second.
As we approached the pier, we saw the entrance, still looking as it must have years and years ago.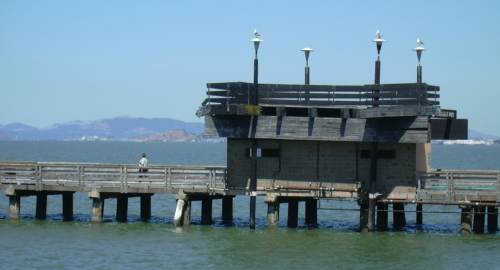 Of course, David, TJ, and I paused for a photo under that entrance. Thank you, Denise!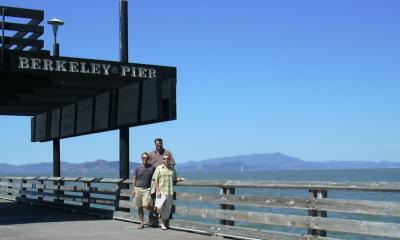 We started our long walk down a very long pier. I wanted to capture the walk we were about to embark on, and I accidentally framed it with TJ and David. The nicest photos always happen by accident.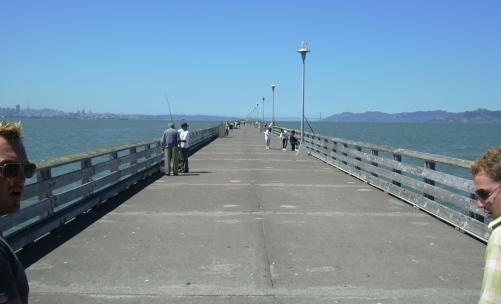 Notice all the people fishing along the pier. Many, if not most, were Asians, talking in their native languages and wearing clothes from their culture.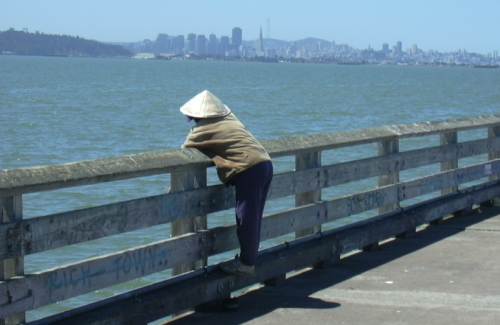 We walked and walked. It was a beautiful day for a walk on the pier. It was about 75 degrees, and a strong breeze was blowing steadily landward. The sun was shining, and the pleasant scent of salt water and ocean air was everywhere. It seemed like every other fisherman was accompanied by a cooler and a radio playing a variety of music. Some were napping in the sun. Of course, not everyone was fishing with a rod and reel.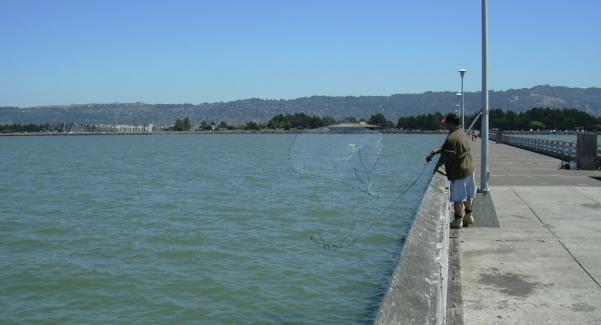 Off to our right, sailboats dance, shining in the sun, a welcoming flotilla. Their sails flapped a greeting at us, as we continued on our walk.
Finally we reached the end of the pier. It looks rough, but there is a beauty in roughness and age. You can see that part of the pier was allowed to collapse and fall into the sea, and that the pier continues 50 yards or so ahead. If you look carefully, you can also see that the pier we're standing on is concrete, but the older pier ahead is wood. I really like the man standing there looking out through prison bars at the unreachable ahead. What is he thinking, I wonder? He stood there for a good ten minutes.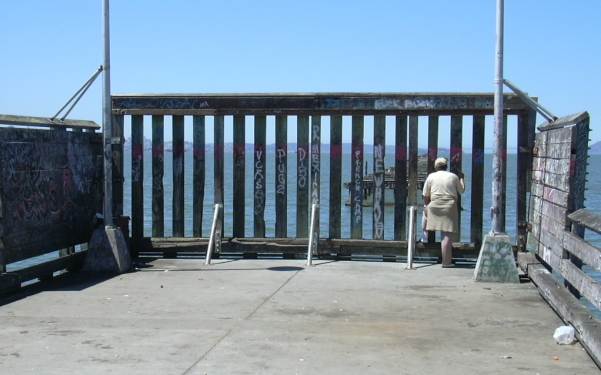 I walked up to the very end, and I looked through the bars. What was once alive with horses and men is now available only to birds. Something drew me to that old pier, though. I wanted to close my eyes for a moment, and then open them again to see men in old-fashioned clothes guiding pack animals across the bay, on a pier newly built and strong and firm in the ocean. A few minutes of time travel is a great thing.
We turned around, and saw the Berkeley hills. Homes, shops, schools, people living their lives, guarded by rows of brightly erect sailboats, securely at anchor.
We made our way back down the pier, away from the broken old end and towards land. Along the way, a seagull flew next to us, heading towards the broken beams and rusty nails that hadn't felt a human foot in decades, able to take a journey back to the turn of the century that we can only imagine. What humans leave behind, animals make their own.
We left Berkeley and headed north for the Napa Valley, home of wine country, or, as TJ and David called it, "drunk country". In about an hour and a half, we were there. It's an absolutely charming area of California, only thirty miles long and just a few miles wide, and containing some of the most fertile dark soil on earth, perfect for growing succulent grapes, and therefore containing many of the absolutely best wineries in the world.
Everything was golden and green as we drove into and through Napa. The gently rising hills on either side of the valley were golden, with pockets of green on them, and on our right and left were neatly organized rows of green vines carrying grapes almost ready for the harvest, parallel rows extending on and on towards the hills.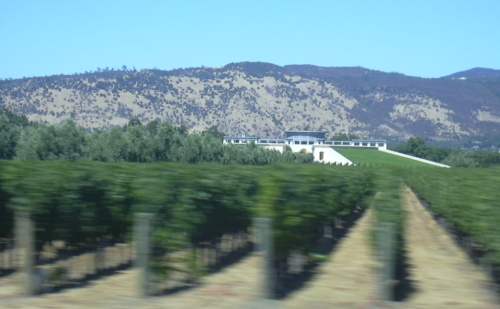 We decided, on the recommendation of my friend Jerry Bryan, to stop at Domaine Chandon, a winery that focuses on champagne. Since it makes champagne instead of "still wines" (basically, any of the typical wines that we drink that do not have sparkling bubbles in them), it has a different sort of tour than you'll get at other wineries. It's on a beautiful estate, an estate that was carefully planned to blend in with the landscape. You can see the care that went into the creation of this winery right at the entrance.
We took the tour, given by Bob, who had retired from 20+ years as the fire chief of the town to become a tourguide. He talked incredibly fast, and he wasn't as loud as I would have liked, so it was a bit hard to hear him. But it was interesting nonetheless. After the tour, we got to the best part: the wine tasting! We walked to the covered patio where we could greet the pourers and try the champagne, and we just gasped. This was the view behind the pourers. Can you imagine working with this view right behind you?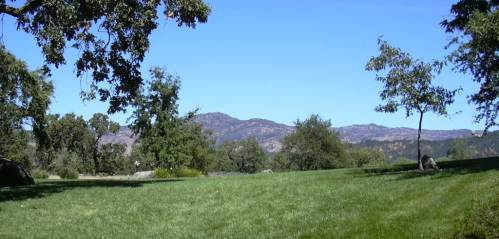 We tried several very good champagnes. Denise and I liked the Brut Classic quite a bit; it was crisp and refreshing. TJ also liked the Classic. David liked the Riche, which was sweeter and fuller and, like its name, richer than the others. All of them had teeny tiny bubbles in them, the mark of a good champagne.
David and TJ enjoyed themselves quite a bit. There were several modern art statues all over the grounds, all for sale. The boys found one in particular to be quite inspiring.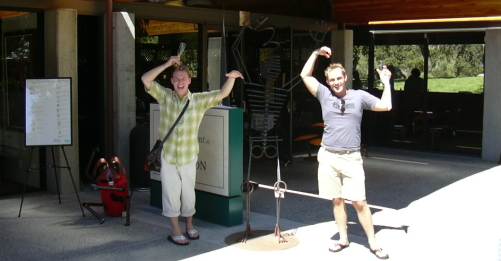 We all went to the gift shop and purchased some of the champagnes that we enjoyed. We made to leave Domaine Chandon, and stopped for one last photo by the entrance. The beauty of the ivy-covered archway, plus the neat undulating statue on the right of the picture, should give additional ideas of the care taken at this lovely place. Highly recommended.
By this time, we were getting hungry, so we pulled into a grocery store and purchased French bread, hummus and olive spreads, crackers, a variety of cheeses, and some other yummy picnic foods. We drove down the road looking for a nice place to sit, eat, and drink some wine. Robert Mondavi's mammoth vineyards appeared, so we pulled in. It looked lovely, and as we walked in through the Spanish-style archway, the spread before us was enticing and peaceful.
Alas, we couldn't picnic here. Mondavi doesn't allow picnicking. Okey dokey. They didn't make any money from us, then. So back in the car we went, and we headed further down the road. Along the way we continued to gaze jealously at the homes we saw. They were gorgeous, and the whole setting just looked so wonderful and appealing.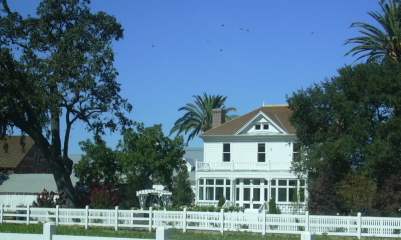 Denise read in a guide that a winery called "V. Sattui" was supposed to be charming, and it encouraged picnicking, so we pulled in. It was founded in the 1880s by an Italian immigrant named Sattui, and to this day it only sells direct to consumers, so you can't buy its wines in stores. It was gorgeous. The grounds were lush and overflowing with flowers and plants.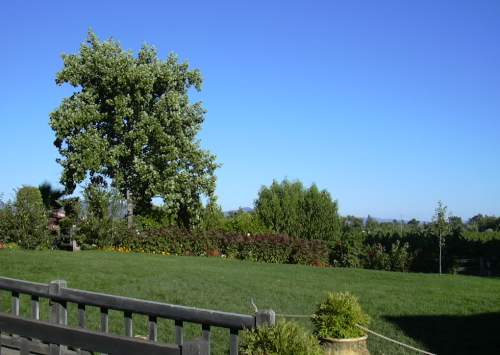 The buildings themselves were just as lush and overgrown. It was like being in a foreign country. Our mouths were watering. TJ was overcome with excitement.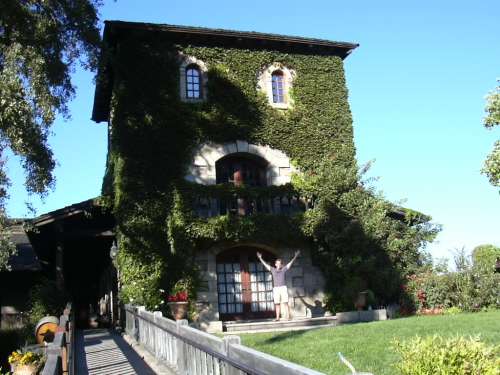 V. Sattui has a lovely little picnic area outside of the visitor's center. There are about ten or so picnic tables spread over a verdant lawn, and plenty of large trees provide sheltering shade. A cool breeze was blowing gently, keeping us refreshed. I waited outside at a picnic table while my three companions trooped inside the visitor's center to get some wine and any additional food. After about fifteen minutes, they returned with two bottles of wine: a dry Reisling and a blush called Gamay Rouge. Both were fan-freakin'-tastic! Especially the Gamay Rouge. I am normally not a blush fan, but that stuff was amazing, off-dry and fruity but not overly sweet, and light and refreshing, perfect for our picnic.
We opened the wines and the food, and began to dig in. Fabulous!
And then the weirdness began.
About ten minutes after we started eating, TJ gasped. He was facing the parking lot, as was David. We all turned around to see a dark-haired, thin-bodied and thin-faced woman, about 40ish, guiding an older woman, maybe 60 and red-headed, away from the parking lot and onto the grass of the picnic area. The older woman was obviously drunk as hell. Hammered. Sloshed. Tanked. Three sheets to the wind. Stumbling, unable to walk by herself, and not really able to talk. Shwasted, as we used to say in college. The younger woman led the older woman to the grass, and then let her fall gently, face down, onto the ground. The younger woman proceeded to walk into the visitor's center.
We were all astounded. The drunk woman was about 30 feet away from us. Every once in a while she would lift her head and then drop it to the ground again, and sometimes she would bend one leg at the knee and then straighten it again. Sometimes she did both.
We debated who she was, what the relationship between the younger woman and the drunk woman was, and what we should do. We decided that the younger woman obviously didn't know the drunk older woman, and that the younger woman must have found the older woman leaning on her car and so moved her away to protect her paint job, and that we should wait and watch and see how the drunk woman did before acting. Of course, I took the opportunity to wing a cute lil' cherry tomato over in the direction of the drunk woman. It skipped in the grass and bounced against her leg. TJ gasped again, as did David, and then Denise joined in. "Are you throwing cherry tomatos at that drunk woman?!", they all asked me, horrified. "Uh, no," I responded, lamely, "Not at all." Then I did the old, "Oh my God! Look at that!" and pointed at something in the opposite direction of the drunk woman. They all looked. Suckers. I threw another tomato. It missed the target. At that point, they all turned back around. "Did you throw another cherry tomato at that drunk woman?!", they asked. "No, of course not!", I protested. At that point, I realized that there were only a few tomatos left, and they were tasty, so I decided that it would be best to conserve the food.
Ten minutes had passed since the drunk woman assumed her position on the ground. Suddenly, the younger woman who had deposited the drunk woman on the ground left the visitor's center and walked the fifty feet or so towards the drunk woman. She was accompanied by another woman approximately the same age and build, and also by two cute little girls, about 6 years old or so. The young woman bent down towards the drunk woman, who had by now rolled herself over on her back, and said, "We're going on the tour, OK, Mom?" And with that she and her group all turned around and walked back into the visitor's center, LEAVING HER DRUNK AS HELL MOTHER ON THE GROUND.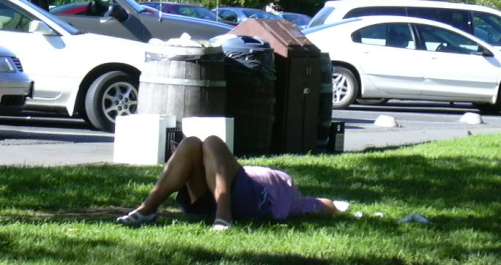 When I turned back around from that scene to our picnic table, I saw that everyone's mouth was open—TJ's, David's, and Denise's—and I suddenly realized that mine was as well. We were all literally agape. TJ was the first to speak: "Jesuschrist, that is that woman's Mom! OmyGod OmyGod. For seriously, that is so messed up!"
At least twenty more minutes went by. Maybe longer. And then suddenly, the visitor's center door opened again, and the two daughters and the two granddaughters sauntered out, carrying bags of food and wine. They walked over to drunk mom/grandma, sat down, and proceeded to enjoy a little picnic next to their drunk as hell, passed out matriarch!
Yes, they ate bread and cheese and drank wine next to a bunch of trash cans and a woman who couldn't talk or walk. How many times has that scene been repeated for everyone to act so calmly, so naturally? It was astounding in its trashiness. Jerry Springer, I've got some guests for you.
As for us, we finished our wonderful meal. As you can tell, we ate with gusto and had a great time. I left a couple of cherry tomatos … for eating.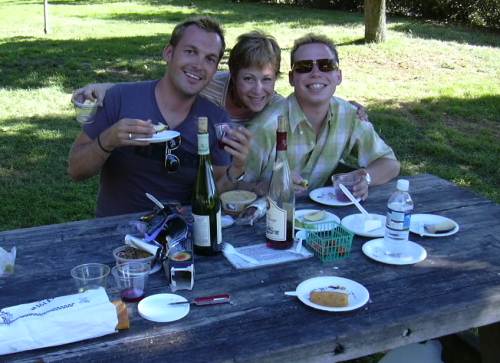 During the meal, David got a little … happy. Not so happy that we had to stretch him out on the ground next to the DG (Drunk Grandma), but happy in his own special David way. At one point, we were discussing a future trip, and TJ suggested the US Virgin Islands. David loved the idea. "OhmyGodIwouldlovetogototheVirginIslands!!!", he assured us, created a new word to express his fervor.
We cleaned up our trash, got in the van, and headed on down Napa Valley towards its final city, Calistoga. You've probably seen Calistoga bottled water in the store, and you may have heard of it as a famous spa town. Unfortunately, it seems that I was the only person who could pronounce it: Cal—i—stow—guh. Denise liked "Callistiga", like a Roman emporer, while TJ kept saying "Cagilistica", and David refered to it as "Cagootalistigoo" or something like that. The sad thing is, they weren't drunk, just incompetent!
Calistoga is a lovely town, one that I would like to return to one day for an extended stay. Wide, peaceful streets guide visitors by cute little shops, welcoming restaurants, and lots of comfortable lodgings. We decided to stay at the Roman Spa, which turned out to be a great decision. It was reasonably priced, clean, and generous with its amenities.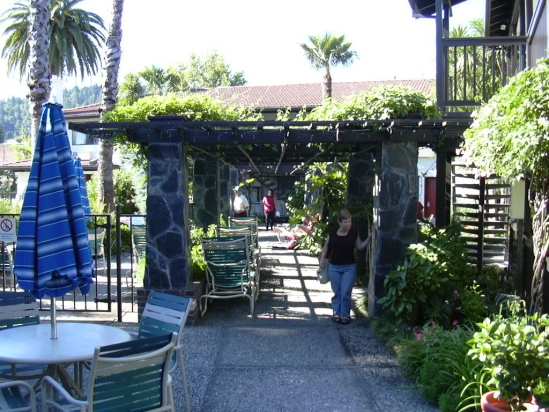 We had a hot tub, which was plenty hot, a warm swimming pool, and a normal swimming pool. We used all three, and TJ and I also checked out the sauna, which was about 170 degrees. We had a good talk, but I unfortunately can't repeat it here. Back out in the pool, TJ regaled us all further with tales about his three months in San Francisco, which I also can't repeat. Suffice it to say that it involved … no, I can't tell. You don't want to know. OK, maybe you do want to know. Next time, you'll just have to join us if you want the truth, the whole truth, and nothing but the truth.
By this point, we were tired and ready for bed. We dragged ourselves into our room and into our beds. With thoughts in my head of drunk mothers and seagulls, my eyes closed, and I was asleep.