I would not have thought it possible, but today we did San Francisco in one day. TJ was our tour guide par excellence, guiding us through all the sights that we came to see at this city by the bay.
The morning began in Calistoga. We awoke, showered, and checked out, sorry to leave the Roman Spa, Calistoga, and wine country. Napa Valley really is a unique place in America, and I can't wait to return.
We began the drive back to San Francisco. Along the way, Denise decided to have something to eat.
Poor Denise. She's been sick the last several days with a cold that's moved all through her head. At one point she told me that she felt like she had a cloud floating around her brain. Eeek. The constant movement hasn't helped at all, and neither has the A/C.
After a little over an hour, we reached Sausalito, outside of San Francisco. It's a wealthy area, right on the bay, and we decided to eat lunch at a cafe that is a favorite of TJ's. So we parked and ate. Ingeniously, the eating area was outside, but there were tall bamboo walls all around the diners, and palm trees were growing inside the walls so that their fronds created a kind of natural ceiling above us. We were eating outside, and dappled sunlight played about our faces and our food, but it felt like we were inside at the same time.
During the meal, I got a great shot of TJ and David. The light was just perfect. You can call this one, "Two Best Friends".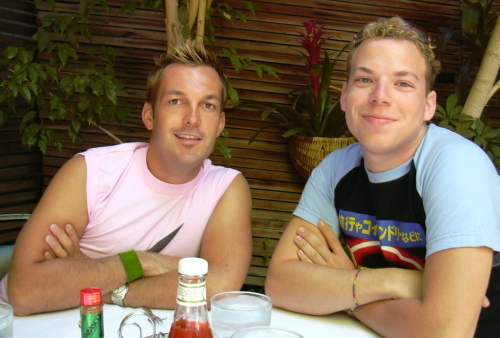 After the meal, we all posed together for a picture. We don't have enough shots of the four of us together, which is a shame.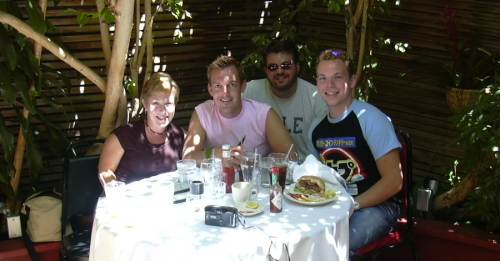 By the way, notice TJ's pink shirt with the dark lightning bolt. He told us a great story about the last time he wore that shirt.
"When I was an intern at a law firm here, I went to Gay Pride. That Pride was my first one here in California, and I was very excited to be going. Normally I dress up for Pride, but this one was very special. I wore my pink muscle shirt. I wore my flared jeans. I also dyed my hair pink. I wanted to get into the mood of things, so I dyed my hair bright pink.

When I dyed my hair pink, I asked the woman who did it, 'Will this wash out?' She told me yes, for seriously, it would wash right out. 'OK', I said, 'This will wash out?' 'Yes', she said. 'OK, it will wash out?' 'Sir, yes sir, it will wash out'. She lied. She lied to me.

Everyone at Pride loved my outfit. 'You are so cute!' I looked good in my pink shirt and my flared jeans and my pink hair. I was Mr. Pride.

But guess who was washing his hair Sunday night before work and found out that the pink would not wash out? Jesuschrist, but I was not happy. I washed my hair, and it would not wash out. My hair was pink. So I thought if I slicked it back Monday morning, no one would notice because it would be darker. When I walked in the door to the firm Monday morning, the woman behind the desk was like, 'OhmyGod well someone had a good Pride!' It took a week for the pink to wash out, and they wouldn't let me go to court that whole week. I could not have gone to court and been like, 'Happy Pride, your honor!'"
We left Sausalito and walked outside towards the ocean. I looked up at the homes on the hills of Sausalito, and I shuddered to think of their costs. But my goodness the views must be spectacular!
From the shore we could see Alcatraz in the distance, much closer now than the day before. We couldn't wait to get to Alcatraz. It was something that we all wanted to see. When we got to Fisherman's Wharf, we were going to get tickets and ride the ferry out to see the prison.
As we walked past the shops there in Sausalito, one caught our eye: a toy store! "I love toy stores! Let's go in!", insisted David, and there was certainly no argument from me, so in we went. There were lots of great toys in there, and we all spent quite some time, playing, amusing ourselves and our friends, and buying what will become great Christmas presents. One of the themes of the store was monkeys as drawn by Paul Frank. In fact, there was a giant Paul Frank monkey out in the store's front window, and I felt a certain kinship to it. Yes, I too could be a Paul Frank monkey.
There were so many cool things in the store. My absolute favorite was the "Naughty Pooping Pig". Basically, it's a cuuuuuuute little plastic pink pig with the silliest grin in the world on his porcine face. When you squeeze him, he becomes a naughty pooping pig all right. I must say this now: I LOVE THIS TOY! I bought several. Denise was horrified. She just couldn't understand my affection, nay love, for the naughty pooping pig.
There was also a set of dental tools. Yes, dental tools. The pointy things dentists use to press on the caps of your teeth to test for decay, and dental pliers that dentists use to yank out teeth. I of course picked them up and started walking up to David and Denise and whispering menacingly, in my best crazy Nazi dentist accent, "Is it safe? Is it safe?" Unfortunately, David hadn't seen Marathon Man, so it was lost on him. *sigh*
While we in the dentist tools section, I picked up a dental mirror and tried to take an arty photo using it. I got Denise, holding the naughty pooping pig! Hoohah! Caught on film (as it were)!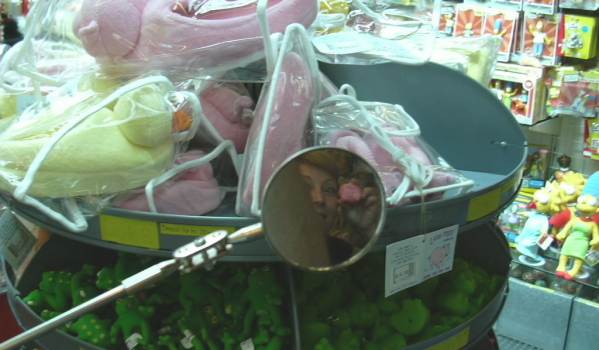 After we made our purchases, we sauntered outside and headed down the street towards a fountain that invited us. It was a very cool fountain. The faces on the side laughed as they saw us and our toys, happy to see new visitors.
Denise and I sat for a photo too.
Finally, the water at the top of the fountain spilled and danced downward in the sun, alive and happy as well. It really was a pleasant little park, there in the middle of Sausalito, California.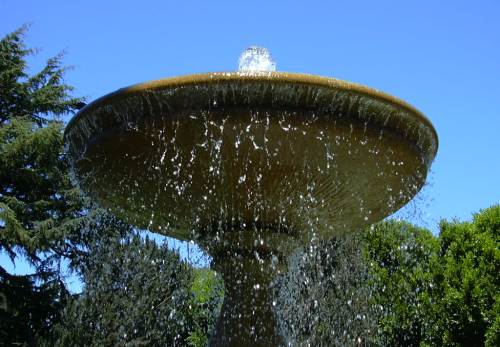 We left Sausalito and continued on our journey into the heart of San Francisco. First, though, we had to make a stop at one of the world's most recognizable landmarks, the Golden Gate Bridge. I had seen the Bridge in pictures many times, and I've always thought it was stunning, but it's far more stunning when it's in front of you. It's a work of art as much as an engineering masterpiece, as beautiful as it is functional. It makes you feel good to see it, and maybe hopeful as well. It's just … majestic.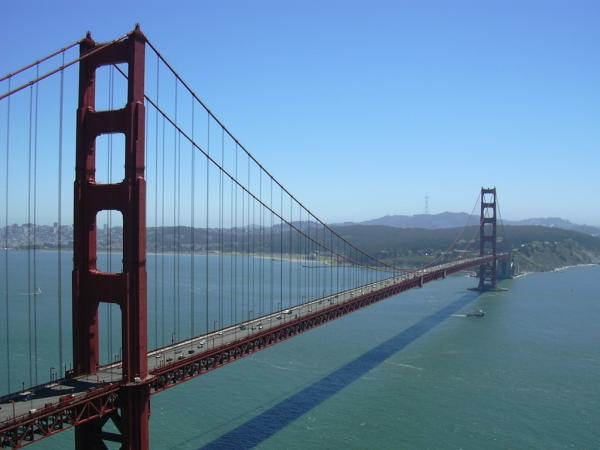 After we reluctantly left the Golden Gate Bridge, we continued on our journey into San Francisco, heading for Fisherman's Wharf. Before hitting the Wharf, we went to the highest point in San Francisco in the van. It was unbelievable driving to that spot. It looked from inside the van like we were going up an incline that would surely flip us over, and as David drove up the first of the hills, everything in the van slid back towards the rear, and we all yelled in dismay. It was really very nervewracking.
The reason for getting to the highest point was to drive down Lombard Street, the curviest street in the city. Picture a giant snake curving back and forth and back and forth on the ground, with about nine undulations. We drove down it—very, very slowly, with David riding the brakes the whole way—and were amazed to find out that people actually live on that street, and in fact park their cars in driveways and garages on Lombard! It was truly incredible.
We continued towards the Wharf and finally found a parking garage so we could get out of the car. You could smell the salt air and hear the noise of the crowds walking and gazing and strolling and eating and chatting and gaping. It was crowded, but you were still able to get around easily, and it wasn't unpleasantly or scarily crowded, and everyone you could see was obviously having a good time.
The first thing TJ wanted to show us was the sealions. Evidently there was a problem with the sealions in the recent past: they were jumping upon the docks and boats and were either sinking things or threatening people. Sealions are both extremely heavy and extremely territorial, so this was not a good combination for anyone human or animal. The solution was to build several floating docks just for the sealions about 50 yards from the main boat docks. So far, it's worked out pretty well. As we walked around towards the sealions, we could see the docks.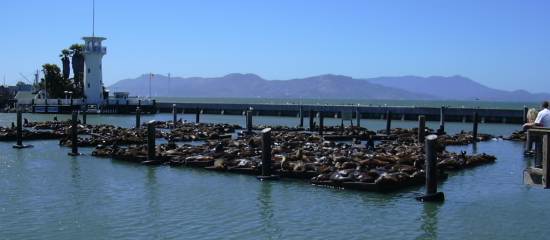 As you can see in the picture above, those docks are simply crawling with sealions. Completely covered in sealions. It's like a private club for sealions to hang out, sleep, fight, mate, and in general just have a good ol' sealion time. We walked closer to the sealions.
Now, I don't know if you've ever been around, oh, 300 or so sealions, but let me enlighten you as to a couple of interesting things that you immediately notice. First of all, the sound of 300 or so sealions is incredible. I thought for some time about how to transcribe the sound a sealion makes, and I think I finally got it. Sealions go ARNK! ARNK! ARNK! They do not whisper, for sealions are not subtle creatures, and they do not question, for sealions are not curious; instead, they proclaim, and the sound they use to proclaim is ARNK! Three hundred sealions, all shouting ARNK! ARNK! at the same time, all announcing as loudly as they can their joy in being a sealion, greeting each other, warning each other not to mess with their wimmin sealions, barking their ARNK! ARNK! bark in a symphony of sealion, a never-ending overture of sealion, an opera in a thousand acts of sealion … ARNK! ARNK! ARNK! ARNK!
Then there's the smell. Oh my Lordy, what a smell. Sealions proclaim with their bark, and they proclaim with their smell. You can smell 300 sealions from quite a distance, and there is no mistaking that your nose is processing sealion. It's the smell of an animal that lives in the ocean, and eats fish, and likes to wallow on floating docks in its own poo.
And finally, you notice that sealions are pretty damn interesting to watch. A lot of them were sleeping, cuddled up next to each other, laying on top of each other, draped across each other, head to tail to belly to flipper. But others were in the water swimming fastascouldbezipzoomzipthroughthewater. And then one would tire of swimming and would approach a floating dock teeming with sealions and would hoist himself uuuuuup on the dock with the front flippers and then pull himself uuuuuup onto the dock and begin to walk across the sleeping sealions until he either woke one up and thereby received an angry ARNK! or until he met the bull sealion of the dock who would give a warning ARNK! and then another ARNK! and then butt him off the dock. It was constant motion of sealion, a neverending drama showcasing all the various activities a sealion could engage in.
We left the sealions and walked over to look at Alcatraz. Ah, so close, so close … There it sat, calling us to come visit. Oh, we were so excited!
We strolled around a bit more. I went through a doorway and found a dock for sailboats. There they sat at anchor, waiting to be taken out on the bay for adventure. I don't know how to sail, but I was ready to go!
Now it was time to get our tickets to Alcatraz. And very quickly, reality intruded upon our fantasies, for we found out that all tickets were sold out until Sunday. It was hopeless. So, let this be a lesson to any of you considering a trip to San Francisco and a jaunt out to Alcatraz: buy your tickets early. Don't wait. Arrrgggh! We were so close!
Now it was time for a treat. TJ had told David something that had him totally wound up, and now both were saying, in tandem, "Ice cream! Gonna get the ice cream! Can't wait for the ice cream!" I looked up to see where we were heading.
We were going to the Ghiradelli ice cream store. For those of you who don't know, Ghiradelli was an immigrant about 150 years ago who founded an ice creamery. It's pretty famous. There was already a line of about 20 people waiting to get in, and people quickly lined up behind us. We got to the counter and ordered our ice cream. I got the warm caramel sundae, Denise had a hot fudge sundae, TJ enjoyed "The Cosmic Berry" or something like that, and David ordered "The Cable Car". Just to give you an idea, David's "Cable Car" had chocolate chip ice cream, rocky road ice cream, and chocolate ice cream in a bed of hot fudge, surrounded by marshmallow creme. TJ and David were very happy when their ice cream arrived.
The ice cream was good. It was sickeningly good. The tastes lingered in your mouth for what seemed like hours before slowly fading away in super yummy mmm mmmm mmm goodness.
But my God those sundaes were huge. And when we finished, TJ announced that we were going to walk to Chinatown. So we stood our bloated bodies up and waddled out the door after TJ. And we began to walk up the street. And up. And up. It was a repeat, but worse, of the first night we were in San Francisco. Once again, we were all following TJ as he led us on the exercise regimen from Hell. But these hills were—and I swear this is true—even steeper than the hills in Berkeley that we had suffered through. And we were full of ice cream. And it was pretty warm. Even if I hadn't just had an enormous sundae, I would still have been in pain. I struggled along with everyone else up those hills, having to actually stop once and catch my breath. It was sheer torture.
And we finally made it to the top. And you know where we were? Right in front of Lombard Street, the highest point in San Francisco!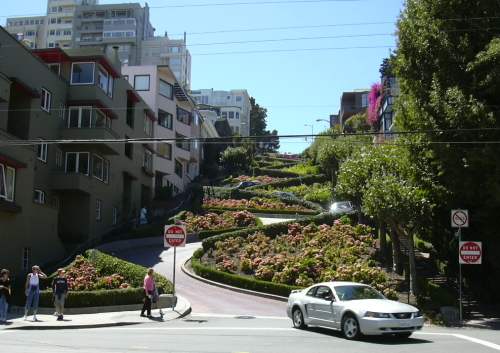 I turned back and looked down the street we'd just walked up.
See where the water is? That's where we started. And notice how crazily, insanely steep that hill was? Oh my, but that was steep.
Once again, we walked and walked and walked, heading for Chinatown. I really don't mind walking that much, I really don't. But I'm from Missouri, so I'm used to walking on flat surfaces. The constant up and down was a killer. Along the way, we saw the San Francisco Cable Car Museum, and it turns out that it was also the central location for the actual cables that the cable cars use!
It was amazing. These cable cars are over 125 years old, and they still work. Even more incredible, they still use the same basic technology used 125 years ago! Basically, there are four enormous continuous cables under the streets, and these gigantic pulleys called "sheaves" drive the constant motion of the cables. The cable cars grab the cables and use them to pull the cars along.
These sheaves were enormous things, eight feet in diameter, and turning rapidly. They looked like old technology, but they still worked and worked well, and that always lends old technologies a certain grandeur. It was a fortuitous chance that we stumbled upon this building.
We continued on for several more blocks, seeing the most wonderful architecture. Even the hotels were a grand affair.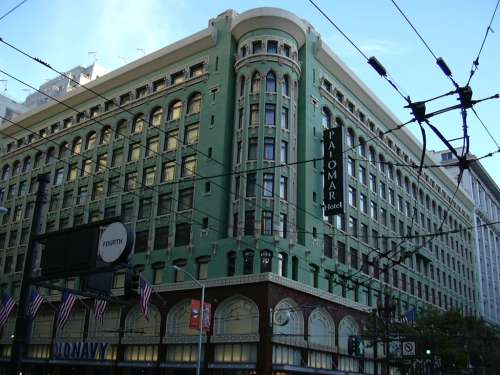 And then we were in Chinatown.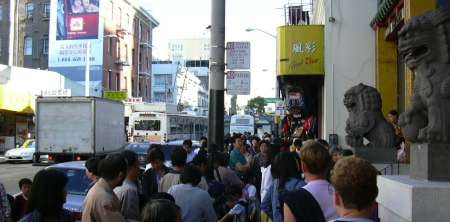 People everywhere, mostly Asian, and a lot of children, and all talking excitedly. Most of the writing was in an Asian script, but all of the shops had this sign or something close to it in English in many strategic spots all over the walls: YOU BREAK IT, YOU BUY IT. And the shops! Clothing, electronics, antiques, videos, as well as good old fashioned touristy crap. We spent several hours making our way from shop to shop, and I must say that I had a ball. There was so much to look at, so many clever items, so much color and action. We got our fill of Christmas gifts, that's for sure.
Here's one window that particularly impressed me. Wow. There really were a lot of beautiful antiques on display. I wished I had a larger budget and a bigger vehicle to carry back all the statues, chests, and goodies that I saw.
We continued through Chinatown, and then finally reached the entrance gates. Yes, we had gone through Chinatown backwards. Too bad, because that entrance gate was a pretty awesome sight to see.
We waited for a cable car to take us to our last stop: the area of San Francisco known as the Castro. We were all pretty excited to see it. Denise and I had each heard about it for years and years, and it sounded really cool, so it was actually going to be kind of a highlight for me. TJ had spent a lot of time in the Castro when he lived in San Francisco, so he knew it very well, and David just thought it would be the coolest place on earth. The cable car arrived, and we rode it for about 15 minutes or so, and then we were at the Castro.
I really liked the vibe I got from the Castro. Laid back, fun, cool. I was really glad to get this shot, since it contains my traveling companions and friends, the Castro sign, and the very famous giant Castro rainbow flag. Once I saw that flag, I knew I was in the Castro.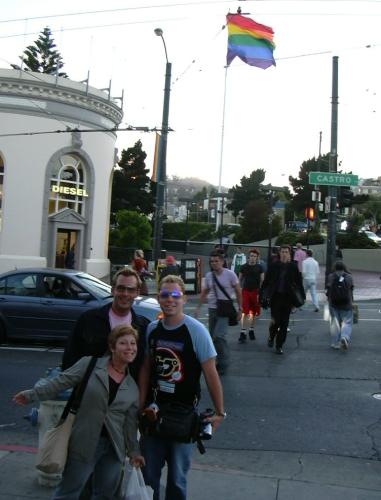 We walked around for a quick glance at the main arteries of the area. As far as you could see, houses and shops lined the streets, with rainbow flags everywhere. It was really heartening to see.
We checked out a clothing store—in-Jean-ious—for a while, and then it was time to eat. TJ recommended Osaka Sushi, and since we all love sushi, he received absolutely no arguments. It was small and crowded and the sushi was wonderful. We had a great time: good food, good friends, good conversation. When we left the restaurant, the night was in full flower in the Castro.
It was time for TJ to show us the bars. We first went to Badlands, which was pretty crowded for a Tuesday night. Everyone was watching the closed-captioned televisions showing "Queer Eye for the Straight Guy" and laughing and enjoying it. In another room dance music was playing, funk and techno and dance hits, both old and new. The dance floor was a whirl of activity. We got some drinks (which were strong) and TJ and David danced while Denise and I took turns watching the always fascinating people or watching the screens playing the videos corresponding to the music playing on the dance floor. It was really fun as hell.
After a while, TJ wanted to take us to Daddy's, a laid-back leather bar. "Laid-back" because none of us were in leather, beside my belt, but Daddy's will still let you in, unlike the stricter leather bars. We went in, and it was pretty quiet. The bartender was a really nice guy, sans shirt, and he served us drinks which were also strong. The four of us sat down and had a really good conversation. David used a good line on the bartender when he went back to get refills: "Hey, are all the bartenders in San Francisco as cute as you?" Good one, David!
After a while, we were getting tired. We left Daddy's, took a cab back to the van, drove it all the way to Moe and Grace's, and decamped inside. It was late, really late, and our day around San Francisco was coming to an end. We had had quite a day, one of my favorite traveling days ever, and it was time for sleep.