Today was our last day in California. TJ left early in the morning to fly back to L.A. and Jay. Denise, David, and I awoke at Grace and Moe's in Berkeley and got ready for a long day of driving ahead of us. Before we left, though, we were going to meet Martin, my editor at Apress, the future publisher of a book I'm writing for them, Open Source Gems. We drove around Berkeley for the last time. As we drove, we saw things that one could only see in Berkeley, California. For instance, this copy center:

You can go there, but you end up having to go back, over and over and over and over again …
And this art store, done in the style of Mondrian: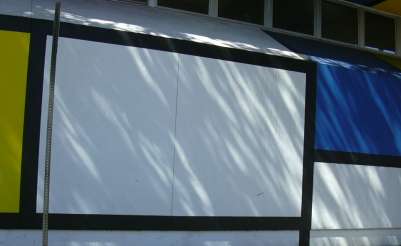 And finally, the most magnificently Berkeleyish thing of all, this sign for the movie SWAT on the wall of a local business.
The bottom is supposed to say "Even cops call 911", but some local anarchists have redecorated the poster to more closely reflect their politics. It's sooooo Berkeley.
We met Martin at Apress' HQ and went out to lunch to a charming little cafe a few blocks away. It was nice to finally meet Martin after chatting with him on the phone. He was as cool in person as he has been on the phone (yes, he's going to read this!).
We really did have a great time, talking not just about nerdy computer stuff, but also about non-nerdy stuff, like comic books! It turns out that Martin is a comic book afficianado, so we had quite a bit to discuss. What was really funny was that our waiter was also a comic book fan. He started joining in our conversation, excitedly telling us his favorite new artists and recommending comics to check out. In fact, at one point, he stopped, thunderstruck, and asked us, "Do you guys work for a comic book publisher?!" We sadly had to tell him no. He was disappointed.
After our lunch, we walked back to Apress and said goodbye to Martin. At that point, we got in the van to in essence head back to Missouri. Without realizing it, Martin at Apress was the pinaccle of our trip, with everything leading up to him, and everything afterward leading back to our homes.
We drove and drove and drove, heading for Reno, Nevada. It was a long drive, and it wasn't long before we were in some pretty mountainous terrain, with evergreen trees everywhere. After hours of driving, we reached Nevada at exactly 7 p.m. Soon after, we stopped at Vista Point near Donner Pass, a scenic lookout. I was feeling goofy, so when Denise insisted on a picture of the two of us standing in front of the beautiful spot, I counter-insisted on holding my Naughty Pooping Pig, which I had purchased the day before in Sausalito. I think he added greatly to the picture.
Denise wanted to pose by herself, but I put the pressure on. "You MUST hold the Naughty Pooping Pig! You MUST! The Naughty Pooping Pig will not be denied! Hold the piiiiiiig!" She did it, but she wouldn't face the camera while doing so. Coward! Coward!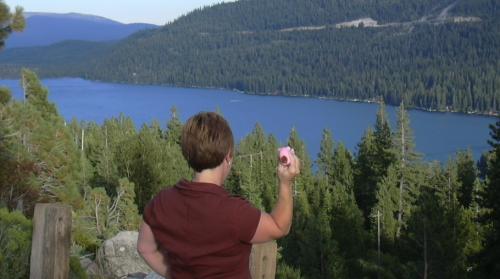 Finally, I decided to take a picture of the scene. The Naughty Pooping Pig insisted on being in the picture.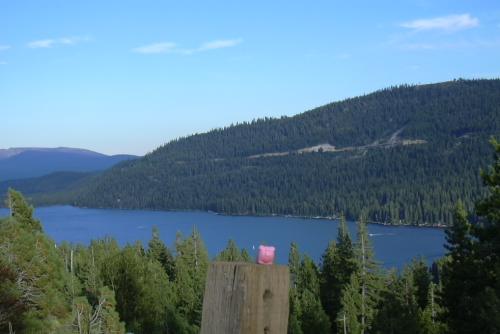 You gotta admit, he's a cute lil' pooping pig.
I turned around to go back into the van, and I saw the most amazing clouds above us. A gorgeous canopy, roiling in the sky.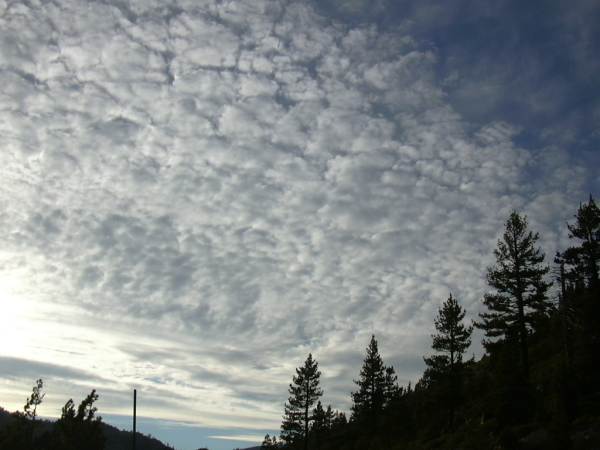 Back in the van, and we continued driving and driving. Finally we hit Reno. We weren't going to spend a lot of time there, just eat a qiuck dinner and watch David "make a little money" in a Reno casino. We parked the car and began walking down the Reno strip.
It was very different from Las Vegas. There was definitely an older crowd milling about, and it wasn't nearly as crowded. It also seems that Reno's strip is far more concentrated than Las Vegas'. But I had to say, Reno's sign welcoming visitors was pretty impressive.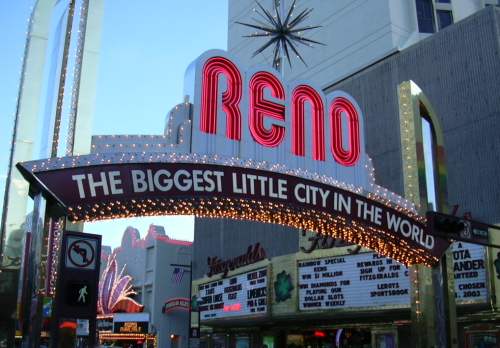 There were some impressive casino signs on the street. I particularly liked the one advertising The Nugget. Remember, it wasn't dark yet, so the lights weren't really out in full force.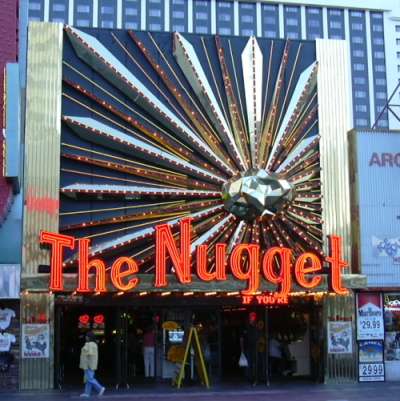 Of course, there weren't just casinos on the strip. Remember, Nevada is a famous state for quickie marriages (and divorces, if I remember correctly). The wedding chapels are well-known, although I didn't see any chapels advertising marriages performed by Elvis impersonators, which a friend of mine actually did. However, I don't think this marriage chapel is one of the classier joints. Hey, there's nothing like getting married to someone you met one hour before and then stopping for some discounted booze and smokes!
We ate at the Harrah's buffet, and it was OK. We had a fun time talking, and yes, I brought the pig to dinner. When we stepped outside, though, it was night, and the lights were in full flower. Reno was alive!
David still hadn't gambled his money away, but he knew just the place: Circus Circus. We headed on down the street towards the enormous Circus Circus clown, glowing and turning in the night.
I do not like clowns. They make me nervous. Especially happy clowns with murderous grins on their faces, as they attempt to make you laugh before they rip your throat out for their unholy needs. I guess it all goes back to Stephen King's It. The point is, I did not like walking up towards that clown, but walk towards it I must. We scampered inside, and David quickly lost $20. That was his limit, so it was time to leave.
Before we left, though, we stopped at a gift shop to buy some crap. And buy some crap we did. My goodness, but this was the crappiest bunch of crap I've ever seen! Dancing hamsters, candles in champagne glasses, stupid t-shirts, and mugs shaped like breasts, with the liquid dribbling out of the nipple. Amazing. We found some awesome items that we purchased as gifts for folks. They will be truly amazed when we present them with their gifts. I can't show them here, however, because then the surprise will be spoiled. Just trust me: it was crap of the highest order.
We got in the van and headed out for our final destination for the day: Elko, Nevada. It was some desolate country, boring and uninteresting to drive through, especially at night. David drove, and I kept him awake while Denise dozed in the back. David and I were both exhausted when we finally arrived in Elko at 2 a.m. We found a motel, trooped in, and were out in a few minutes. We would have stayed in the Red Rose Inn, we were so tired. OK, no we wouldn't … but fortunately, this place was OK for a night's rest.