Finally! We slept in! Until 9 a.m.! I was overjoyed, and my body was thrilled. For a vacation, I haven't gotten any sleep. It was nice to get some sleep.
Mark made us coffee, and we sat around and talked for a while. Since this is Colorado, and since Mark is the most physically-fit 50-year-old in the world, he wanted to take us for a hike. This sounded like a lot of fun, so we got our hiking clothes on and got in Mark's car.
He drove us about 45 minutes or so to Mt. Falcon Park, which offered a pleasant hike and a great view at the end. Off we went. It was actually a gorgeous day for a hike: the sun was out but there wasn't great heat, or at least little to no humidity. As residents of Missouri, the land of horrible humidity, we appreciated this last detail. The meadow that surrounded us was pleasant, with gently rolling hills and a light carpet of grass.
After walking for about 20 minutes, Mark pointed out the ruins of a mansion ahead. You can just see the brick ruins in the right side of this photograph, peeking through the trees, as though they are ashamed to be seen in such a sorry state.
We came to a fork in the trail, and headed for the ruins. After a few minutes, we came to what was left of John Brisben Walker's (1847-1931) mansion. Walker was a serial entrepreneur who made quite a bit of money in real estate, newspapers, and alfalfa farming. He even served in the Chinese army after dropping out of West Point, a wonderfully colorful detail that makes me smile just thinking about it. In 1909, Walker began constructing a magnificent mansion for his family. It had everything: a library, an observation deck, a reception room, a music room, and a dining room. Unfortunately, the mansion was struck by lightning in 1918 and burned to the ground, leaving nothing but the skeletal remains of stones.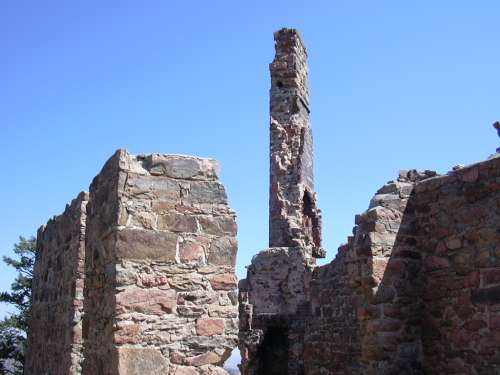 You could still see the outline of various structures, and those that weren't obvious tantalized with echoes of past uses. Was that a fireplace? Was this the kitchen?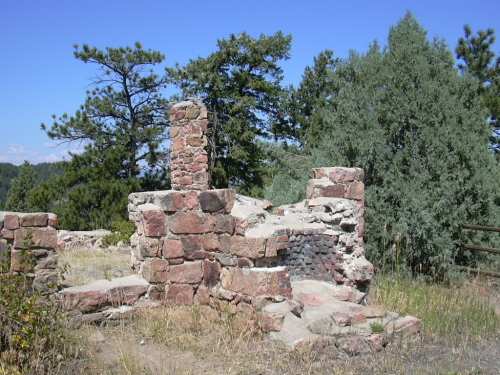 Nature had encroached onto what was formerly a glory to human wealth and ingenuity. It reminded me of the ruined pier in Berkeley. Water or land, bird or deer, collapse into the ocean or collapse into the soil, eventually all of our magnificent structures decay. It's a lesson we all need to keep in our minds.
Of course, Denise and her brother Mark weren't in quite as philosophical a mood as I was. What a couple of goofballs!
We left Walker's mansion, or what remained of it, and went back to the fork in the trail. This time, we took the other path less taken, and that made all the difference. After about ten minutes, we hit the overlook and a fabulous view. To the left:
And to the right: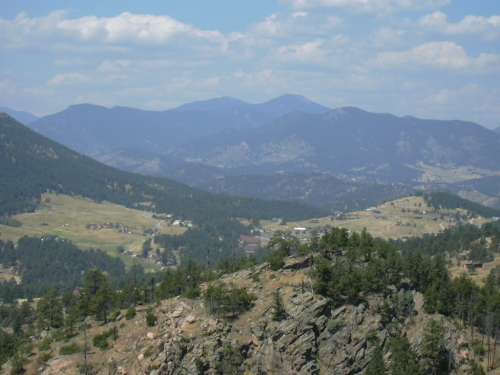 My new digital camera also takes movies, so I took a quick movie of the view as well. It's a bit shaky, but you'll get a 180 degree panorama of what we were seeing, and it ends, accidentally, with Denise and Mark's heads.
Mt. Falcon Park, Denver panorama movie
(Warning: 3.2 MB QuickTime movie! Do not try to load with a dial-up connection!)
You could see houses that cost way too much, and small little villages nestled in valleys, and roads way off to the left with cars on them busily driving who knows where, and trees, lots and lots of pine trees. We just stood there in silence for several minutes. Mark was feeling particularly contemplative.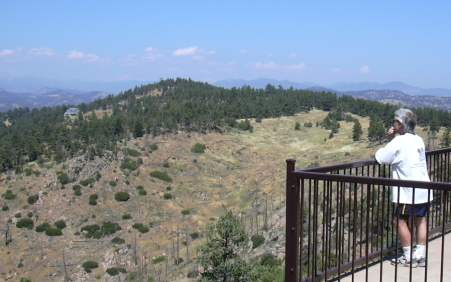 Mark then told us about his first skydive ever, in July of 2002. He went up about 18,000 feet and then jumped in tandem with a professional. He had freefall for about one minute, and then drifted down for about five. He said it was one of the greatest things he's ever done in his life. It sounded very cool.
We left the overlook and hiked back, again through the pretty meadow that we had seen when we first entered the park.
We reached the car and went back home, and spent the rest of the day just relaxing. It was wonderful. I got a chance to read and write, and Denise got to sit on the back porch, enjoy the breezes, and read. Mark's kids, Rachel and Aaron, got home from school (10th and 7th grades), and we had a good time talking with them. Dinner was vegetarian lasagna, courtesy of Mark, and it was tasty. We watched The Juror, a movie with Demi Moore and Alec Baldwin (hey, it was on …), and then headed off to bed. Ahhhh.