We were all extremely tired, as none of us woke up until 11 a.m. Downstairs, my Mom was making tomato soup and other yummy-smelling tomato dishes using some of the many tomatos that folks in Arrow Rock have given her. We sat around and talked for a while, and then we decided to get cleaned up and go eat some of that fine Marshall, Missouri dining. When we walked outside, I knew we weren't by the ocean any longer—it was hot and sticky.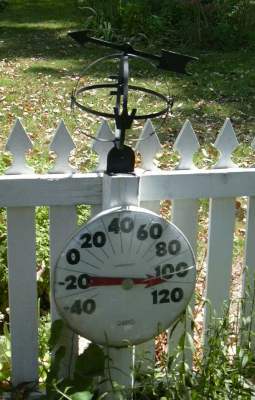 On the way to eat, we passed by the lot where my Dad's Phillips 66 gas station used to be. Now it's just a building and a lot for used cars, I believe; the gas pumps and the underground containers were removed several years ago. I spent a lot of time at his station when I was growing up, just hanging out and playing with the equipment, or listening to whomever he'd hired for help—Dale, or Steve, or Tim—talk to to his friends about cars, women, and partying. It was hot in there during the summer, since there was no A/C, and the smell of oil and sweat and grease was always omnipresent. It was a very masculine place, one that I felt comfortable visiting only irregularly.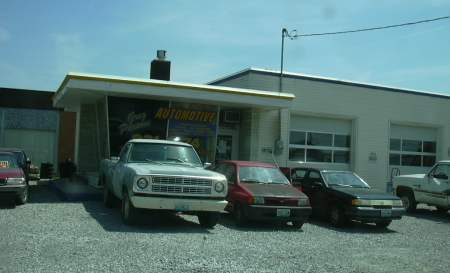 We ended up eating at Porky's Sandwich Shop, NOT the other Porky's that is just outside of town. That's right … we have two restaurants in town named "Porky's". My Mom took us to the one in town.
The restaurant was 3/4 full, mostly of local folks getting their mid-day meal. Farmers, blue-collar workers, some women on their lunch break. A couple of farmers had a pretty ripe smell coming off them, so we moved to another table. Nothing against them: I'm sure they'd been working hard, and farm animals give off a smell. We just didn't want to whiff it while we ate.
Unfortunately, Marshall does not have a lot of good restaurants. Porky's was OK, if you like meat. Since I'm basically a vegetarian who eats fish, I was in deep trouble until I saw the tuna fish sandwich. It was OK, although David and Denise liked their BBQ meat.
After lunch, it was time to give David a tour of Marshall. We first went to the most important thing that an outsider has to see when in Marshall, the one thing you must see or your trip is not complete: the Jim the Wonder Dog Memorial Garden!
OK, you've probably never heard of Jim the Wonder Dog. But in Marshall, he's famous, incredibly famous. Here's a photo of Jim and his owner, Mr. VanArsdale, taken in the late 1920s or early 1930s: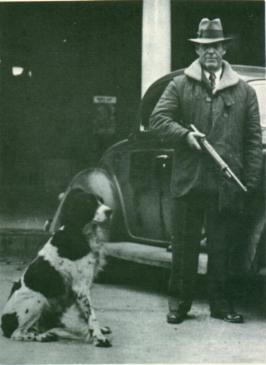 So what made Jim a "Wonder Dog"? He seemed to have an intelligence that was paranormal. Born in 1925, he was given to Mr. VanArsdale as a gift. He first displayed his uncanny abilities when he was out hunting with Mr. VanArsdale. Mr. VanArsdale asked about a oak tree, and Jim went up to one and put his paw on it. Mr. VanArsdale named other trees, and Jim would go up to each variety and touch it. But he could do far more than that.
Dogs are color blind, but Jim would, when asked, touch the person who was wearing the red shirt, or the blue dress. He could select a car by make, color, model, or license plate number. If commands were written in English on paper and held in front of him, he would follow the instructions. Even more amazing, he could do this if the commands were written in a variety of languages. He correctly picked the winner of the Kentucky Derby for seven years straight. And so on.
It sounds amazing, but I know people who saw Jim perform, and they all swear that it was true. In fact, my grandparents saw Jim many times, and had the most amazing stories to tell about him. They believed it, although they couldn't explain it.
When Jim died in 1937, he was buried just outside the main cemetary in town, Ridge Park. When the cemetary expanded some years later, they left Jim inside the boundaries, and today he's the only dog buried in the human cemetary.
His grave always has flowers, or coins, or dog toys, or dog cookies on it. In fact, when we visit the cemetary on Memorial Day to see the graves of my relatives, we always visit Jim's grave and leave a dog cookie on it. When our dog Libby joined us this last year, she made sure to stop and pay her own respects.
Since Jim is so famous and beloved in Marshall, they created a water garden near the town Square to honor him. It's actually a really cool space. In the center is a statue of Jim, and around the perimeter of the area is a brick walkway, with seven stops along the way. At each stop is a small plaque with details about Jim's life and those who knew him, from his birth to his death in 1937. One of the stops is a water garden, naturally, and it is very well done.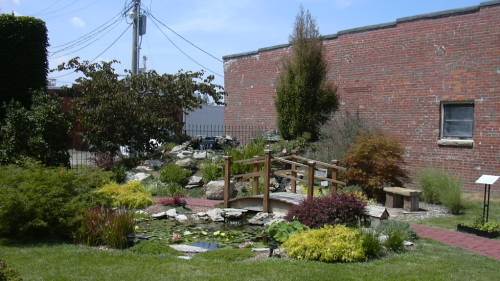 Marshall has more water gardens per capita in the state of Missouri than any other town. Another weird but true Marshall fact. Here's another one: for one year in the early 1980s, we had more murders per capita than any other town. Busy year that year. But back to the water garden: it's really lovely, with a gentle waterfall, and a pool with miniature koi in it, and plants and rocks and flowers. And to top it all off, right as you cross the wooden bridge, there's a little wooden doghouse.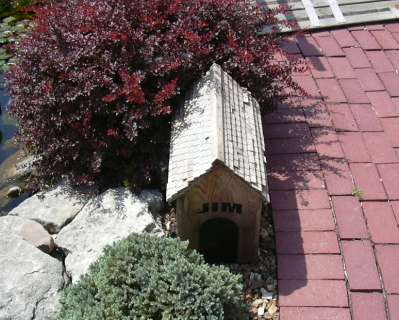 The miniature doghouse is a bit over the top for me, but it's cool.
As you're walking through the Garden, you can look up and out and see the grand Marshall Court House in the center of the Square, over 100 years old and still the center of Saline County government. It really is a great building, and I remember a lot of activities being held on its lawn: fairs and burger cookouts and music and even a 1981 film using it as a backdrop: The Children Nobody Wanted, about Tom Butterfield and the creation of the Butterfield Ranches for troubled kids.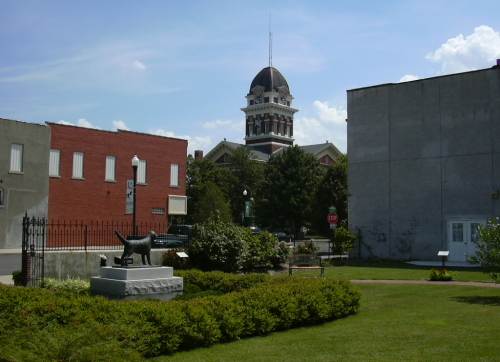 Around the statue are bricks with the names on them of people who supported the Water Garden. It seemed like I knew the name of almost everyone I saw, and I could have told you stories about all of them. Close to the left of the statue, in a position almost as thought Jim'm statue could look straight down and see it, is the brick with my name and my brother's name.
It was time to leave Jim's Garden, but before we did, David and Denise posed for a picture on that hot day. They're both skeptics. They obviously haven't been in Marshall long enough.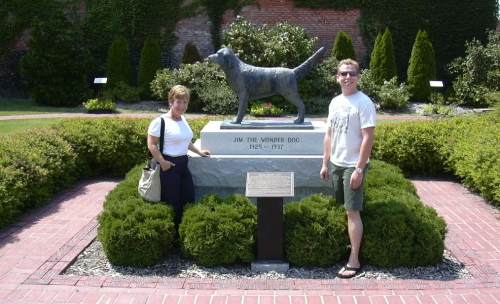 We drove away from Jim the Wonder Dog's Memorial Garden and headed out for more sights. Close by Jim and the Square was the biggest house in Marshall, a gargantuan behemoth of 6500 square feet, now owned by my good friend David Hartley and his brood.
And down Eastwood Street we went, one of the oldest and prettiest streets in Marshall, and the street where many friends lived when I was in high school and college: Carton. Bartlett. Huff. And others I can no longer remember. At the end of Eastwood is one entrance to Indian Foothills Park, the city's park, and a beautiful expanse of land.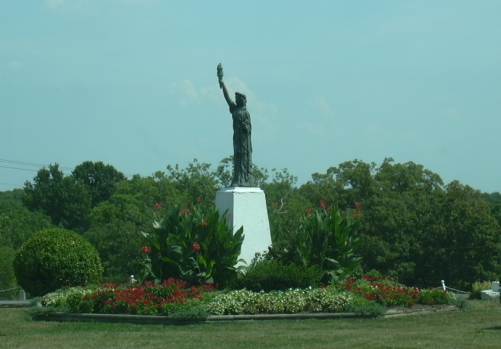 The park is huge, and there is an amazing variety of things to do in it. We drove past a pond for ice skating and fishing, past picnic areas and a small brook, and past horseshoe games and a new ampitheatre for music. At the top of a long hill was the Marshall Swimming Pool, now a water park, and a darn good one too. Past that, the baseball field and tennis courts, and a children's playground on the right, and an 18-hole golf course on the left. And finally, Ridge Park Cemetary, the burial ground of thousands of people and one special dog.
Out of the park, we drove past the YMCA and an enormous church, and then over to Missouri Valley College, a small liberal arts college, sometimes troubled, but nice to have in the community nonetheless. And then down to the main road in town, Odell Avenue, where we passed the empty lot that is all that remains of my father's little house, in which I passed every Friday night and Sunday afternoon for almost a decade. And up Odell and past all the businesses along that busy street—Paradise Donuts and KFC and a boarded-up Hardees and Stop 'N Go, formerly 7-11, and finally Bueker Middle School and ultimately into the driveway next to my mother's house on Odell.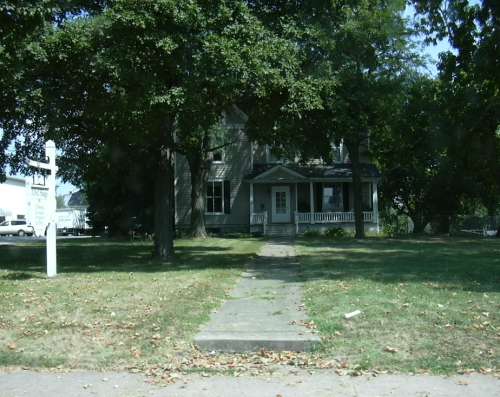 It was not everything in Marshall, but it was a lot. It was not every story I could have told about the town and its inhabitants and the goings-on on a Friday or Saturday night during the summer, when it was time to drive around with your friends and look for something to do and hopefully find a little adventure or danger on the way, but it was something.
Back home, we packed up our things, loaded my van, and headed out for the three hour drive to St. Louis, a drive I had taken countless times since 1985. This time, though, we did something I had never done: we stopped in at the Les Bourgeois winery. It turns out that it sits nicely on a bluff overlooking the river, in a very pleasant spot (although it was so hot on this day that we were outside for as little time as possible).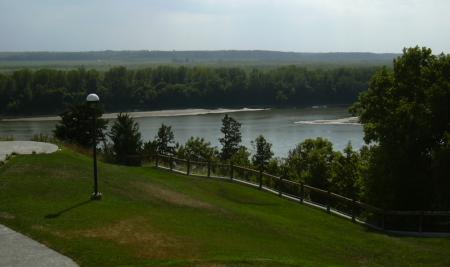 We went it to the store and had a little wine-tasting. The woman behind the counter was talkative and, since we were the only folks in there for quite some time, glad to see us. She was accompanied by two cats, who were glad to be out of the oppressive heat and inside where it was cool. After trying wines, we made our decisions and purchased several bottles.
We arrived back in St. Louis at 7 p.m. My van had gone 5036 miles, and had performed beautifully. I really can't thank my van enough. My digital camera—a Nikon Coolpix 2000—gave us great pictures, and my laptop—an IBM ThinkPad A31 running Red Hat Linux 9—never let me down. David was one of the finest traveling companions I have ever had, and Denise, when she wasn't sick and suffering, did a great job keeping us all moving and focused. TJ, while he was with us, was a fantastic tour guide. The folks that put us up—TJ and Jay, Moe and Grace, Mark and Rachel and Aaron, my Mom and Ray—were all gracious hosts who helped to make our long journey easier. It was a great trip, but, as with all great trips, it was good to be home again.