We awoke in Flint, determined to leave that city as quickly as possible. The fact that all of our clothes now smelled like we'd spent the entire night in a Slovakian bar didn't help, so we quickly showered & peeled out of the Sucky 8, as Denise called it ("This place isn't Super, it's Sucky!"). Our quest: to try & find a wireless connection somewhere in Flint that I could use to upload & download stuff. This should be simple; I mean, heck, in St. Louis, free wireless is all over the place. But we forgot: we were in Flint.
First stop, Starbucks. I'd signed up for wireless access through T-Mobile in Chicago, & T-Mobile is available at every Starbucks, right? Wrong. Not in Flint. Nope. The guy working there was nice, though, & told us to go to this place called the Grand Pie Company, or something like that, about 3 miles down the road. Okey dokey. We went there. Yes! Free wireless, advertised on the door! In we go, I plug in, we order quiche, & … nothing. I can't connect. Wha? I ask a waitress. "Um, hold on," she tells me, obviously not knowing what this "wireless" thing is, really. A minute later: "OK, our Internet isn't working, and the guy that takes care of it is gone out of town". Great. Next!
Screw it. I'll connect in Toronto. I mean, Toronto is a big city. It'll have free wireless everywhere! Right?
The border was our next big stop. Remember how I'd worried about Libby & had her in to the Vet to get her shots? We got all her papers ready. Remember how David & I had bought a case of wine (Two Buck Chuck, at Trader Joe's) in St. Louis? Once we were in Chicago, we found out that each person can only bring 2 bottles of wine into Canada. Since we hadn't drunk all our wine, we planned to just give some to the border patrol when they asked. And the fruit we had bought in Michigan but hadn't had time to eat. And the bazooka I had in the car. And the 2 illegal aliens we'd picked up.
So we get to the border, & the guard says, all friendly like, "Can I see your passports? OK, then. Do you have any firearms? No? OK, then. And why are you entering Canada? Vacation? Great! Alright, welcome to Canada!" And just waves us on in. No dog papers, nothing about fruit, no questions about booze. Wow! I know Canadians are friendly, but jeeminy!
On we drove toward Toronto. We stopped after an hour so we could get some food. When we got out, Libby sat sadly in the car. Poor little shih-tzu. She's so used to coming everywhere we do that she must be wondering why she's been a bad girl & left in the car. Here she is.
Denise & I ate at Tim Horton's, a sandwich store that is ubiquitous in Canada, while David made his lunch & joined us inside. We ate, ignoring the gazillion flies that hovered hungrily about our heads, & then headed out. Near the door there was an information booth about Niagara Falls, a place we'd decided to visit since it was going to be so close to Toronto. The woman behind the counter was incredibly helpful, answering all of our questions. It turned out that she sold packages for touring Niagara Falls. For only $60, we would be driven about by a guide, would get to see all the major sites, & would also get on the Maid on the Mist, the boat that pilots right up to the Falls. Sounded good to us, so we bought the tickets for Thursday, two days from then.
On we drove, & then we were there: Toronto! Man, what a beautiful city. Towers everywhere, looking over the water. Clean, busy streets. The weather was in the 80s, perfect. And the people! I saw every skin color, every kind of clothing—sari, suit, shorts, skullcap, you name it—& heard every language. It was a riot of multiculturalism & multiethnicity. It was—& I know this is an overused word, but it really does apply here—beautiful to see.
We had a reservation at the Howard Johnson's in downtown Toronto, which we found without too much trouble. We parked the car & carried out stuff in. Here's the view close by our hotel.
After settling in & making Libby at home in our room, we were ready to start exploring! Our first goal: a Starbucks so I could plug in to the Net & upload my journal entries. The concierge told us about a Starbucks a few blocks away, so off we walked. We found outselves on Cumberland, & it was a very cool, funky, slightly upscale street. Again, people were everywhere, enjoying the great weather, walking, sitting outside restaurants or on benches or at public chairs. It was fun just to walk along with them, enjoying the ambiance of Toronto.
We were strolling along when I saw, across the street, several Smart Cars on display, available for people to examine. I'd read a bit about them, but never seen one. Made by Mercedes, these are ultra-small cars that get fantastic gas mileage, look really cute, & still protect drivers with intelligent safety design. They're not in the US yet (it's going to take a few more years), but I predict that they'll sell well. "Hey, let's head across the street & check those cars out!", I suggested, so we did.
I know … these cars look like they're completely unsafe, but they're really not. And they get some insane gas mileage numbers which I can't remember. Denise was enchanted. She's going to need a new car in a few years, & this would be perfect for her! The size, the mileage … all of it. She sat in it, & it fit her perfectly.
Doesn't she look cute in that car? Even more amazing, I sat in it, & it was actually roomy for me. I'm not joking. Denise is 4'10" on a good day, & I'm 6'2", & we both fit just fine in that car. It was a cool auto, one that I'd like to see more of.
We left the Smart Cars, walked a few more blocks, & found Starbucks. Yay! Wireless with T-Mobile! Nope. Not only does every single Starbucks in Canada lack wireless hotspots, but there isn't even T-Mobile in Canada! Great. Just great. OK, Starbucks dude, is there any place I can get wireless access? "Hmmmm … let me think about that a moment. OK, sure, got it. The Second Cup has it. They're all over the place, but you can find one about 6 blocks from here. Oh, you could also try the Rock." The Rock? Huh? Well, it turned out that we'd passed a large rock—about 25 or 30 feet in diameter, & gradually sloping up to about 6 feet off the ground—several blocks back, & the barrista thought that you could sit on it & access the Net. Hey, I remembered seeing that rock, & it sounded like it'd be cool to sit on a gigantic rock & upload my journal entries, so back we went.
David took a movie of the atmosphere around the Rock, as well as Denise & I on it. It gives you a nice idea about what it's like.
2005-0816-rock-panorama.mp4 (5 MB MP4 movie)
Sitting on the Rock was pretty cool, & I was joined by lots of other people. Over here were 5 Asian girls, & on the other side was a dude & his girlfriend. Around us at several tables sat a 50 year old man reading a thick novel, & a 40 year old man & woman out on a date, & two older women sitting & gossiping, & a young woman on a cell phone. Denise joined me as I hauled out my laptop & started it up, hoping to find a wireless connection.
Nope. Not a damn thing. That barrista didn't know what he was talking about, or I was at the wrong giant rock. I got at best a crappy signal (I pulled out my wireless signal tester to verify that—yes, I carry that with me in my backpack, along with a ton of other geeky toys. My backpack is like Batman's utility belt, if Batman was a 37-year-old computer nerd), & I couldn't connect to anything. While I struggled, David & Denise checked out a novelty store nearby. I finally gave up, packed up my things, & joined them. By this time, something more important than Net access was driving us: hunger!
It was getting time to eat, so we started walking down Yonge Street, the main thoroughfare in Toronto. Every kind of store you could want is on Yonge St., from books to barbers to medicines to clothing, and what seemed like a new restaurant every third storefront, serving sushi, Indian, burgers, Irish, and anything else humans have ever put in their mouths. Denise couldn't make up her mind, as usual, so we walked from restaurant to restaurant, as my belly grew more & more famished. Finally, in front of a smart looking placed named "Spring Rolls", a guy stood outside offering free samples. Mmmmmm … they were good! So in we went.
Great choice for dinner! It was a Thai place, very clean & chic, with a full menu of options. There were lots of diners there, which was a good sign, & even the bathrooms were cool. I didn't take my cameraphone with me (darn it!), but picture a wide sink with two faucets. In the sink are two pieces of aluminum, one about 2 feet long, the other about a foot, both tilted downward so they meet near the middle of the sink. As water & soap drop down, they hit the aluminum panels & run towards where the 2 panels meet. Very cool indeed.
Even more impressive, the urinals were filled with ice! That makes peeing lots more fun, let me tell you. Why don't more restaurants do that? Heck, I'd go there just to use the bathroom!
Our meal was wonderful. We all ordered martinis (the Greentini for the 2 D's, & a SaigonLini for me), appetizers (spring rolls for me, shrimp dumplings for Denise, & the house spring rolls for David), & for dinner, the Seafood Pad Thai. Yes, we all ordered the same thing for dinner, but it was soooo good. If you're ever in Toronto, Spring Rolls is highly recommended.
We started our walk back towards our hotel, meandering down Yonge Street, taking in the sights & sounds of this main Toronto artery. It was dark now, but there were still lots of people, walking everywhere. We stopped in some book stores, some knick-knack places, & then we saw it: Seduction!
Yes, it was a quote-unquote "Adult" store. In fact, in was a two-story "Adult" store, filled to the brim with all sorts of toys, movies, oils, whips, chains, costumes, dolls, cards, books, magazines, & at least three entire aisles of dildos (redacted by censors). We spent some time in Seduction, looking at all the stuff they had. Pretty amazing, lemme tell ya.
We left & sauntered back towards the hotel. On our way, we stopped in The Second Cup, so that I could use its wireless Net connection. Alas, it was not to be. They didn't support T-Mobile, & they weren't free; instead, you had to pay to use their wireless, provided by Rogers Cable, the local cable monopoly. More money, & good (apparently) only in Toronto? Forget it!
I have to say, I was really surprised. I expected that Toronto would be more like the US, or even like St. Louis, where it's easy to get WiFi. Instead, when it comes to access to the Net, Toronto (Canada?) is like the US circa 2000: Internet cafes are everywhere, where you can pay by the hour to use the computers there, but cannot plug in your own laptop. And that's it. Internet cafes or nothing. No one—or at least, no one that I could find, or that anyone else in Toronto I asked knew about—had any idea where to find free wireless access. I hope that changes over the next few years. I expect better of Toronto!
We had one last stop: a pharmacy so that David & Denise could get their desserts: chocolates! Evidently Canada has different kinds of candy in it than does the US, much of it British, & the 2 D's wanted to try it out. Purchases made, we arrived at Howard Johnson's, found our room, changed clothes, & relaxed. Denise was extremely excited to try out her candy, but she couldn't make up her mind which one to devour.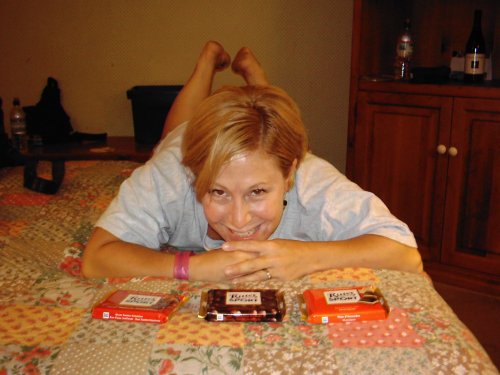 Meanwhile, I finally had my wish fulfilled. Our hotel had a computer in the lobby that guests could use—for a fee, natch—but that machine was connected to a wireless Linksys router! Yes! I asked, & but of course I could use my laptop at a table in the lobby! So that's what I did—I sat in the lobby, fired up my good ol' IBM ThinkPad, & was able to get on the InterWeb. And that's why you've been able to read these journal entries, dear readers: because Howard Johnson's in downtown Toronto makes wireless available to guests. Who'da thunk it?
After computing for a while, I went back upstairs to two passed out individuals, chocolate wrappers strewn everywhere, half-empty wine cups in abundance, & a groggy little dog on David's bed. The lights were on, as was the TV. I'd missed a heck of a party, clearly. Turning out all the lights but one, I climbed into bed, read more of Gleick's Isaac Newton, & fell asleep.