Awake at 8 am, we scurried to get ready to leave. We straightened up Katie's place (replacing the broken windows, buying new dishes to make up for the plates David threw out of the windows, painting over the pen marks on the walls, hiding the cigarette burns on her artwork, putting a rug over the dried vomit, & cleaning up the blood, as best we could), guzzled coffee, shoved Libby into her doggie carrier, grabbed our crap, & hurried two blocks to the subway. Once at Penn Station, we found our way to the Long Island Rail Road entrance & hopped onto the train, with about 5 minutes to spare. Over the course of the hour plus ride to Deer Park, I devoured McMurtry's book on Crazy Horse (yes, I'm still reading Don Quixote; I just wanted to take a little detour into Crazy Horse, since I've been looking for that book for over a year).
We reached our stop, jumped off, found a taxi, & made it to Gus' house. I finished Crazy Horse at Gus', put the book away, & helped pack our car. Libby was glad to be out of the carrier & scampered about. As you can see, David's statement that the back of the van was like a Jenga puzzle—it could only be put together one certain way—was correct.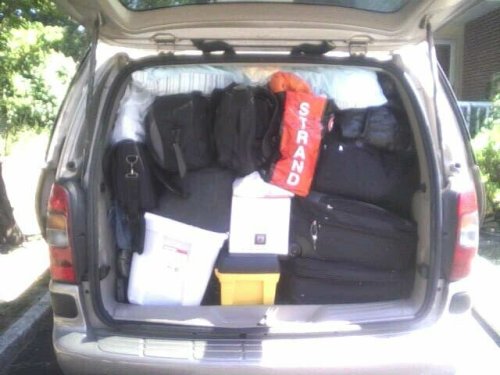 We finished getting everything in the van, including Libby, & drove about 6 blocks before we all realized that none of us had closed Gus' door on his house. The screen door, sure, but not the main door. Ha-whoops! We drove back, Denise leapt out of the van, returned a minute later, & said, "The fuggin' door was wide open!" At that, David & I just cracked up! Finally, after 3 days of David & I encouraging her through example, she was talkin' like a New Yorker! She was pretty red-faced when we pointed it out to her, let me assure you!
We found restaurants we could eat at in a nearby strip mall, scarfed some food, & began our drive back home. Gus told us to go through the Bronx because it was the easiest route. Unfortunately, it was not the quickest. From Gus' home on Long Island to the Bronx took less than an hour, but once we hit the Cross Bronx Expressway, we got stuck in molasses. We sat there, inching forward, for at least an hour and a half. Let me put it this way: we left lunch at 1:30 pm; we didn't get into New Jersey until after 4 pm. Awful. David was about to lose his sanity & run naked down the road, waving his hands in the air & screaming nonsensically.
There's not much to tell after that. David drove, Denise navigated or read her new book on the history of whores, & I worked on this trip journal. Libby slept or looked out the window. We played music continuously, & every once in a while I'd look up to see chair dancing in action, as you can see from these photos.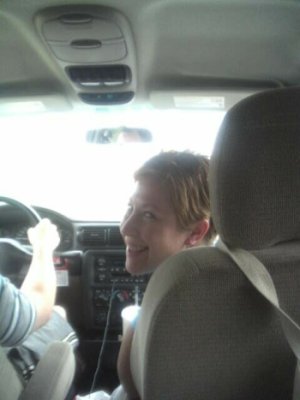 Want to see what the van now looks like? OK, here's a couple of shots from my perspective—the very back seat (we took out the middle seats). Notice the cooler, the boxes, the cords & cables, the dog bag, the pillows, & all the other detritus one gathers over a two-week road trip.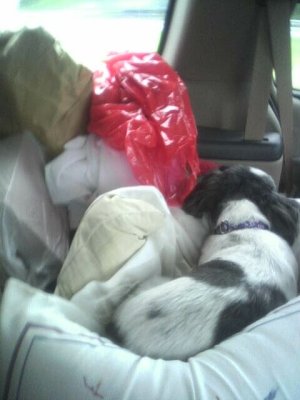 Later that evening, we stopped at ate at a Dutch Pantry in Pennsylvania, where the food was average at best. We drove on, putting miles on the van, until finally David could drive no more. We were past Pittsburgh—just past it—& we stopped at an Econo Lodge. That place, I'm happy to report, was clean, & the non-smoking rooms smelled like non-smoking rooms, unlike that pit in Flint, Michigan. We watched some TV, drank some wine, & turned out the lights, ready for our final day on our journey.